Having the right information and authority to take measures aimed to delight customers is vital to boost their satisfaction. Utilities must empower their Customer Service Representatives (CSR), both with technology and decision-making autonomy, to improve the customer journey.




It is undeniable that empowered and committed employees will take good care of customers. This has led companies to rethink the role of service representatives and their impact on business goals, particularly those related to case resolution indicators and customer satisfaction. This situation becomes even more relevant for utilities, an industry in which customer service is one of the most critical business domains. In order to improve the customer journey, it is essential to provide CSRs with an enhanced technology tool stack that gives them access to all customer information, while also giving them the power to take actions to delight customers proactively.
A 360° view of the customer.
It is common for Customer representatives often to juggle between several support systems to complete a single customer service task. This need to interact with various systems and tools has proven to cause the most significant impact on their productivity,  In fact, the factor that has the greatest impact on their productivity is the need to interact with many systems and tools, ranked first by 24% of representatives asked(1).
In many cases, these representatives have found themselves in positions where they need to reach out to their peers to seek help. Both situations are time-consuming, undermining representatives' productivity while also frustrating the customer waiting on the line.
The rise of self-service options available to customers adds a new dimension to the problem because service representatives need to be aware that when a customer reaches out through a call, its because something more complicated is going on.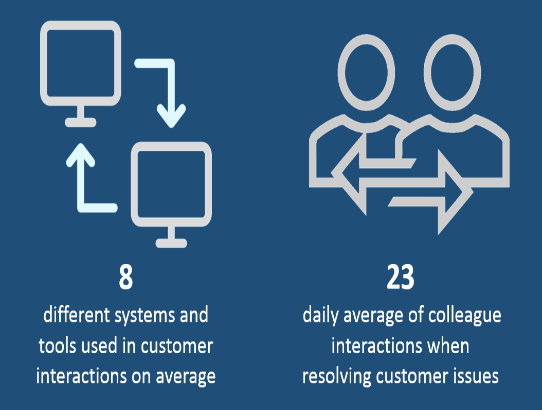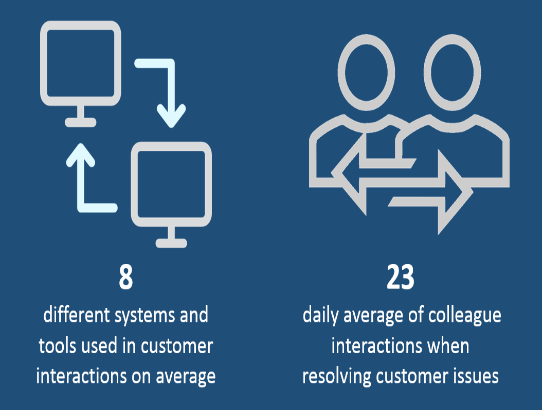 Figure 1. Average system and colleague interactions(2).
These daily issues that service representatives face make it necessary for companies to provide them with innovative technology that articulates all the information obtained from several systems. The new generation of CSR applications must enable a 360° view, giving full context on all interactions with customers to allow representatives to anticipate their needs intuitively.
To that end, the CSR's tools must present information in a uniform interface optimized for user experience. It should include knowledge management features, such as scripts and action guides, altogether with personalization options and great ergonomics to give representatives the ability to create a friendly and enjoyable workspace. Alerts and notifications, interaction history, notes, and dashboards are highly valued functionalities in that regard. Implementing advanced CSR tools will help utilities reduce the time spent in a service call and the discomfort derived from it, positively influencing customer satisfaction while lightening the burden of representatives' work.
Initiatives of their own and positive language.
However, technology alone is not sufficient when helping customers through their journey. Time spent on escalating an issue or awaiting approval for something that otherwise could have been handled by an experienced representative can hinder performance.
Some customer service situations, which may seem simple, demand additional efforts that complicate a representative's ability to solve them. To fix such limitations, companies should consider revising their established service protocols to simplify tasks and reduce process complexity where possible. Simplifying and facilitating representatives' jobs through decision-making empowerment goes a long way, creating a positive effect that will make them feel more appreciated in the workplace. This recognition can ultimately lead them to be more committed to service quality and business success.
Utilities must grant their customer service representatives power to make decisions outside of what has been explicitly stated in the rulebook. Representatives' purview must be increasingly ample, giving them the authority to take action in the moment of the customer interaction. Giving representatives the tools to take proactive initiatives will lead utilities to achieve several benefits, such as increasing their first contact resolution rate and improve overall customer satisfaction.
Organizational culture also plays a major role in the effectiveness of representatives and the quality of service. Aspects such as positive language positioning – reframing how representatives share information and communicate with customers – and understanding how a customer may be feeling when interacting with the company to create empathetic communication can change a customer's attitude towards the company.(3)
The implementation of advanced applications and the tune-up of service protocols and company culture is a mandatory step in turning one of the most painful points in the customer journey into a delightful experience. With this in mind, utilities must be mindful of the proper combination of business initiatives and technology that will enable the best customer journey.
Learn how to create an excellent customer journey using a holistic solution.