CUSTOMER SATISFACTION
INCREASE
ARE YOUR FIELD CREWS HAVING PROBLEMS WITH THEIR DAILY ACTIVITIES, AND ARE THEREFORE NOT BEING ABLE TO GUARANTEE THE BEST CUSTOMER EXPERIENCE?
To improve operational efficiency and get high levels of customer satisfaction, service providers must modernize their workforce with the latest technologies and processes.


Workers who feel that paperwork and lack of information are the worst parts of their day.
Digital transformation is changing the business of service providers and workforce management is no stranger to this new reality. Companies are now demanding a revolution in the way field operations are done.


The better the service, the better the business: empower your field crew with the support of advanced technology and boost operational performance and satisfaction indicators.
Open Smartflex brings you a comprehensive set of specialized Mobile Workforce Management applications that improves operational efficiency and allows cost savings. Because being mobile is key to success, Open Smartflex is focused on mobility to assist all tasks performed by the workforce of your company and enhance its capabilities anywhere, anytime.



OPEN SMARTFLEX
• Mobile application
• Real-time visibility
• Online and offline mode
• Geographical information support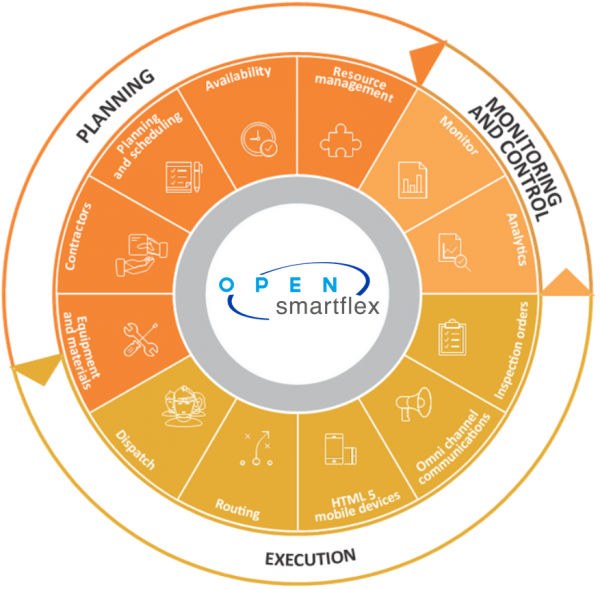 A utility company using Open Smartflex has had the following improvements:
Reduction in average time to assign a work order:
80%
Reduction in execution time:
96%
A client's savings per year achieved with Open Smartflex, by preventing +20,000 redundant orders