Analyzing customer behavior in terms of the end-to-end journey allows organizations to stop focusing on individual interactions and instead turn their attention to the big picture. Taking a step back and looking at the entire customer journey allows companies to deliver a cohesive and delightful experience that improves overall satisfaction and turns customers into business advocates.
The customer journey is defined as a series of interactions between a customer and a company that occur as the customer pursues a specific goal(1). By mapping out this journey, decision-makers can understand the path that customers follow, from the moment they become aware of an unfulfilled need to the moment of buying and using a product or service. Companies that focus on the customer journey reduce attrition rates and pain points for customers by providing enjoyable experiences which makes them feel valued.
To get customer journey mapping right, it must be done from the customer's perspective to avoid misleading assumptions about their behavior; furthermore, it must have an end-to-end scope which includes every stage of the customer lifecycle. To this end, organizations must implement mechanisms such as surveys, feedback channels, and focus groups that allow them to capture the voice and sentiment of the customers. Being able to step into their shoes gives companies access to first-hand insights which can be used to improve satisfaction across the entire journey.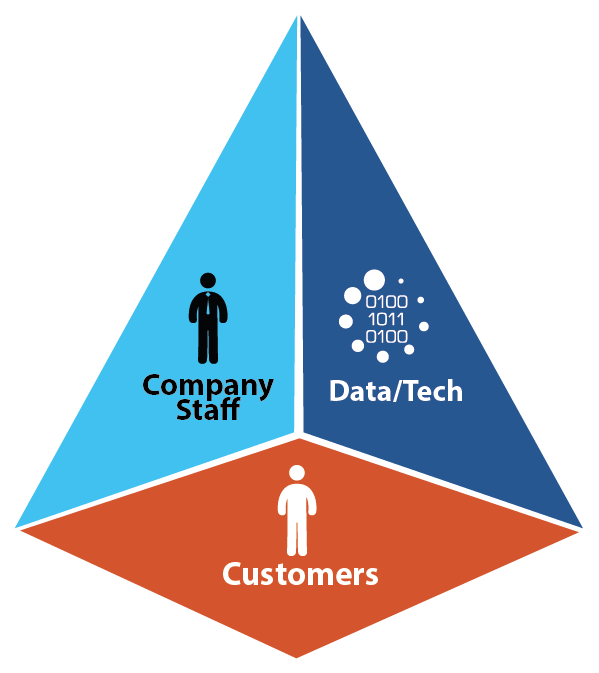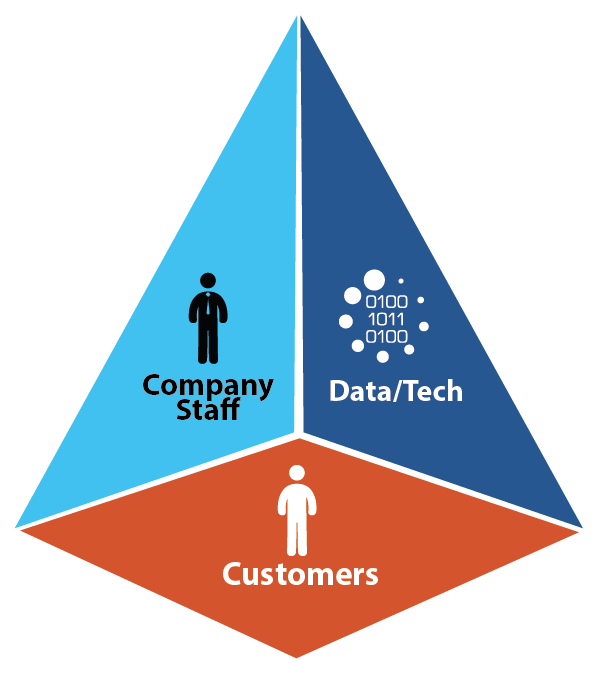 Once companies understand what their customers need, the next step is a coordinated effort to improve key touchpoints through the alignment of employees, customers, and technology; the three pillars recognized by Gartner as the foundational ground to secure a successful journey(2). Never forget that the improvement of the journey is a company-wide endeavor that involves all business domains that have contact with customers. To tune-up customer-facing processes based on the customer journey approach, it is essential to break down siloes and aim for a cohesive cross-department performance.
But it takes more to design a truly outstanding experience; companies also need to be aware that different customers take different paths to reach their destination. Being mindful of the specific set of characteristics and attributes pertaining to each customer allows a truly personalized and holistic experience that customers will love. Statistically, 67% of individuals are willing to pay more for a great experience(3), that means providing better experiences not only increases customer satisfaction, but it also provides an important opportunity to increase revenue.
In addition, a customer journey strategy should include omnichannel capabilities to ensure contextualized communications across every channel. By understanding how customers want to reach out to the company during each stage of the journey, communication channels can be tailored to provide the right channel at each moment, resulting in a seamless interaction experience across a range of platforms.
By implementing a customer journey approach, companies focus on the moments that matter the most when interacting with their customers, transforming pain points into delightful, connected experiences and creating "wow" moments. In turn, benefits such as a boost in their satisfaction indicators, revenue, and net promoter scores are generated, turning customers into loyal business advocates.
A successful customer journey is a great basis to deliver the best customer experience (CX), which is a top concern for 81% of companies expecting to compete in this area over the next two years(4). But as the utility industry embraces the customer journey philosophy, many companies fall into the pitfall of designing their whole strategy around a Customer Relationship Management (CRM) tool. While these tools have become more sophisticated over the years, it should be noted that implementing one of these enterprise applications is not the only thing necessary to succeed. With that in mind, utilities should have a hard think about the best way forward in their customer journey strategy to make sure they have a successful journey on the road to great CX.