The third Cloud for Utilities Summit will take place on February 18-20, 2020 in Washington DC, where Open International will share the benefits of deploying its Open Smartflex Holistic CIS solution, in the cloud.
The Cloud for Utilities Summit is a specialized event where utility companies, IT providers, and other industry players come together to discuss a unique variety of ideas, technologies, and trends that are driving the industry into the new digital world. The Summit creates a perfect environment to make strong connections and discuss the utility industry transformation. Considering the market evolution, Open International will be at the show ready to share its experience of supporting more than 4.6 million customers running on the cloud with Open Smartflex, a cutting–edge holistic CIS solution that supports end-to-end customer operations for smart utilities.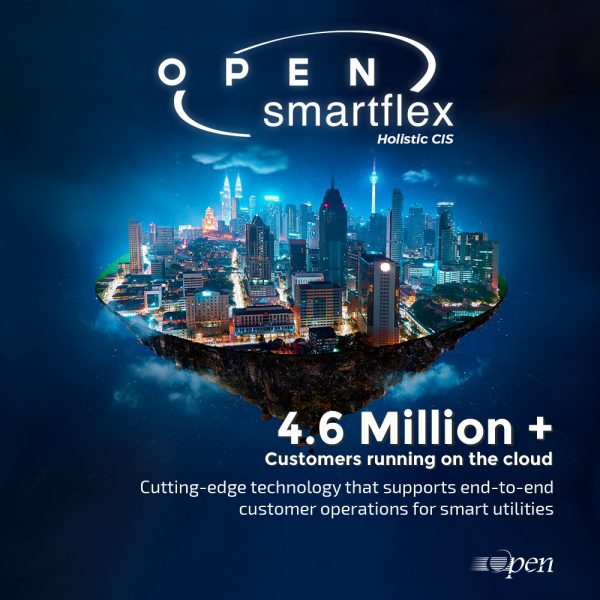 Open Smartflex is designed to empower companies to offer exceptional customer experience and simplify their operations. It is a next-generation CIS that goes beyond meter-to-cash, including features like Customer Relationship Management (CRM), Meter Data Management (MDM), Workforce Management (WFM), and analytics. This solution can be implemented on-premise or deployed on the cloud. It promotes the digital transformation of utility companies with modern technology that supports all mission-critical processes, including the most challenging hurdles faced in the industry such as deploying new paradigms, prosumer billing relationships, multi-channel customer engagement, effective management of interval data and more.
With Open Smartflex Cloud Services, utilities can run their business smoothly with a lower long-term TCO for IT systems and focus on their core business with the peace of mind that software support, updating, infrastructure maintenance, network security, and data availability will be handled by domain experts in a predictable and reliable manner. Moreover, utilities are not restricted to upload their data to any specific cloud provider; instead, Open Smartflex Cloud Services allows you to choose the cloud that best suits your company's needs.
Come join Open International at the Cloud for Utilities Summit to discuss and learn how a world-class CIS solution can empower your business on the cloud.