Last week, Open made its entrance into North America at CS Week 2018, introducing itself to the industry as a new player ready to make waves in the market with its fresh ideas and commitment to excellent customer service.
If you didn't make it to this year's CS Week or you were there and you want to recap the best moments, we would like to share with you what we found to be the most memorable parts of the event.
Changes in customer expectations: Digital experiences and new products and services
One of the topics that had everyone talking was how the industry is going to react to the quickly changing expectations of the modern customer. Millennials are making up a growing share of utility customers, so the industry needs to update its playbook for the smartphone generation.
Customer experience is the new battleground which is shaping the future of the utility world, so companies who want to stand out in this key area need to embrace new customers and new technology such as bot responders, artificial intelligence, prepaid services, prosumers, and web portals. North American service providers have recognized this, and have started creating more customer-focused roles, reviewing their customer journeys, and seeking out CIS solutions that place a high value on customer relationships. As a new market entrant, we were glad to see that the industry shares our vision for a new era of customer experience and we are excited to work with North American companies to make this a reality.
In this new age, customers expect access to the latest technology right away. One single customer may use multiple services (electricity, water, gas, broadband), handle payments through multiple accounts, bundle the services together, or split them out; however, they still expect to be treated as one person. Our solution is built to service these needs and offers an enriched experience for customer sales representatives based on putting the customer first. We showed attendees how our product offers a 360° view of all services and interactions so that the utility-customer relationship can be built around people, not meters.
Women in Utilities
The Women in Utilities event on Thursday was a great chance to hear the perspectives of a valuable women that contribute to the growth of the industry. Professional women from JEA, Eversource Energy, and TECO discussed how they manage to make time for their personal lives while also maintaining high-powered roles in the utility industry and the community.
The Exhibit
We put together a small exhibit to give industry leaders a chance to find out who we are and what we are about. From virtual reality to exciting product demonstrations, our exhibit caught the attention of executives looking to transform customer service in their companies.
The demonstrations of the new and fresh CIS solution for NorthAmerican Utility companies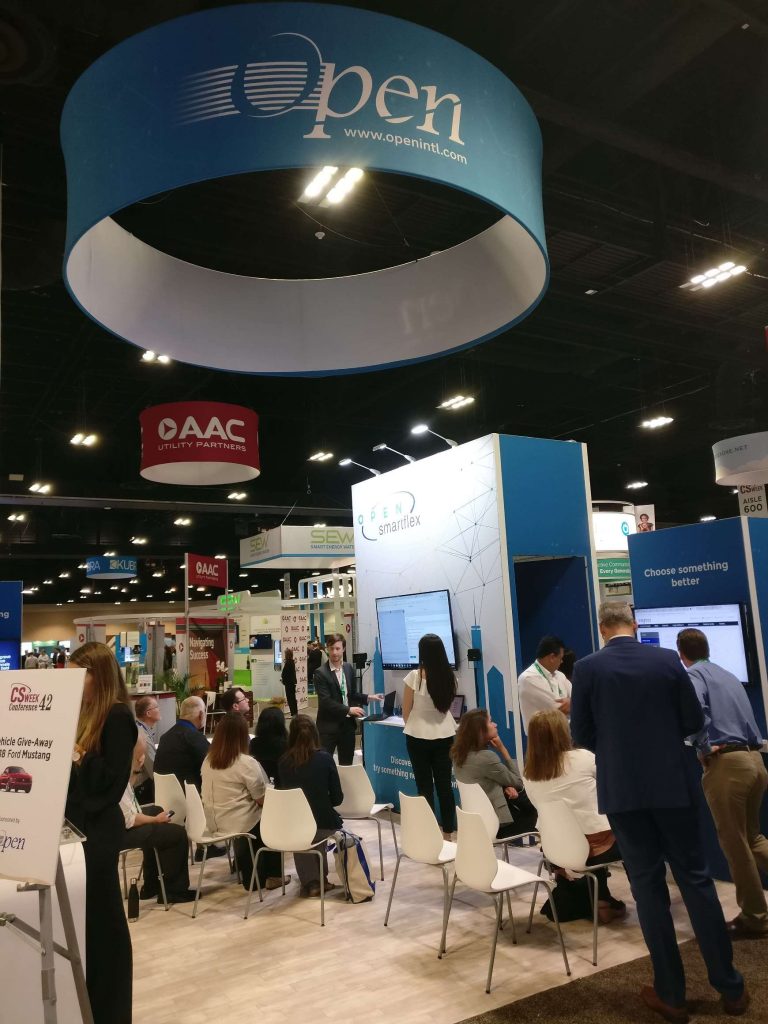 The extremely high level of interest at the show in Open reinforces our belief that the market is not only ready but quite enthusiastic about a new market solution.  Further, the feedback we got specifically on the look and feel, breadth and functionality of the product was beyond our expectations.
After seeing what we had to offer at the exhibit, our private demonstrations gave a unique opportunity for the industry to see first-hand what makes Open Smartflex so different. Whether they were looking to improve customer experience, adopt new technology, or streamline operations, we showed small groups exactly how our product can solve their problems.
The main points we discussed were:
The winning business practices for each industry which come pre-packed with our solution
How to improve customer experience using BOTS and Web Portals
How to increase operational efficiency with a single product that goes beyond CIS frontiers by including built-in Mobile Field Service and Meter Information Management functionalities
How to reduce time-to-market for new products and services based on evolving technologies (smart grids, smart meters, IoT) using Open Smartflex

Building Relationships

The best part of CS Week for us was getting the chance to meet people from all over North America and sharing ideas with them about the future of utilities and the challenges of customer service. Hundreds of people from utilities and consulting companies stopped by our exhibit every day to learn how our innovative approach can benefit their business and why a new market entrant with fresh ideas is exactly what the industry needs to perform in the ever-changing world of customer service.

"I am overjoyed by the feedback we received and the support the industry has shown for Open at CS Week 2018. We are looking forward to the next chapter in our journey as we open our doors to the North American market."

William Corredor – CEO and Founder

We're here and we're ready for you. Find out why everyone is talking about Open and how we can help you take your business to the next level.