Prepaid services in the electric utility industry have experienced a boom in recent years, driven by both the evolving demands of consumers and the growing pressure on utilities to drive greater operational efficiency by simplifying processes and minimizing the financial burden of uncollectible debt.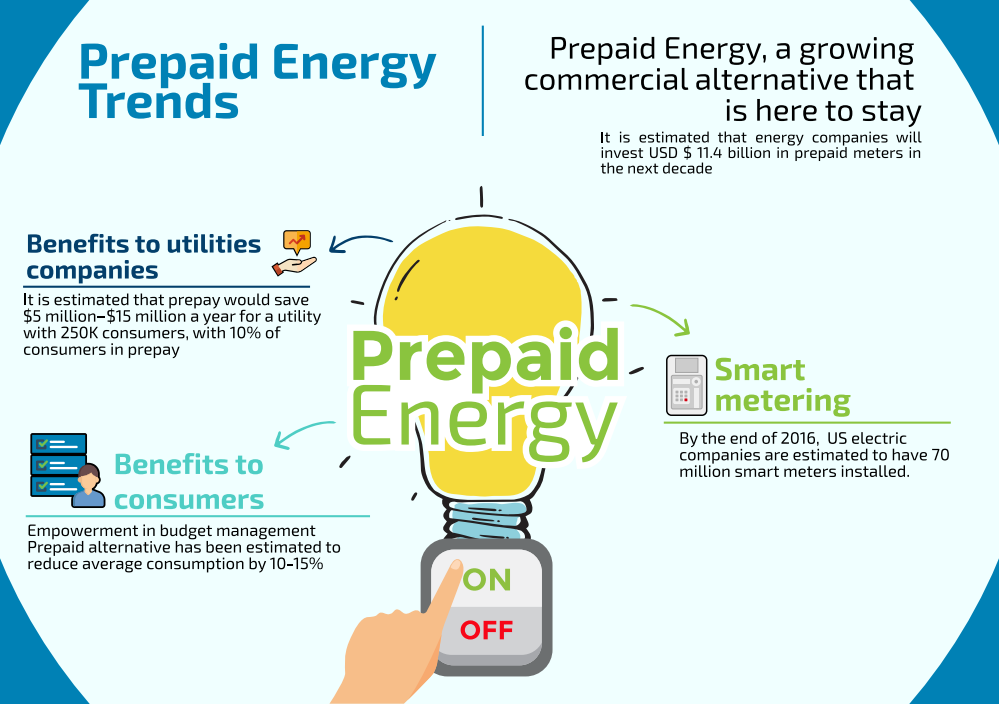 Over the last two decades, prepaid products and services have been on the rise as a commercial alternative across multiple industries. This paradigm shift shows no signs of slowing down and the electric utility industry is set to be the next industry to undergo a period of great change as it embraces the benefits of the prepaid business model. As Northeast Group LLC, a smart energy infrastructure market intelligence firm based in Washington D.C, predicts: "Electricity will be the next growth market for prepaid offerings, with utilities across the globe forecasted to invest $11.4 billion in prepaid metering over the next decade." Multiple industry sources, including DEFG EcoPinion consumer surveys, Navigant Research and Prepaid Energy Hub, report that prepaid energy is currently poised for strong growth.
This global trend is driven by both consumers and utilities. For the consumer's part there has been a rising interest in energy conservation and an increase in the use of prepay options for many other services. As for the utility, there have been key technological shifts such as the rollout of advanced metering infrastructure (AMIs) and the development of other smart grid technologies.  In addition to the rising expectations of customers, utilities face increased pressure to drive greater operational efficiency through more controlled, efficient and profitable processes that minimize any profit leaks in their operation and ensure compliance with government regulations. This mounting pressure on utilities is partly derived from the significant costs of non-operational losses (electricity theft, metering errors, invoicing inconsistencies, among other costs). These expenses are estimated to reach approximately U.S. $96 billion per year worldwide,(1) becoming a critical issue that undermines both the utility companies' finances as well as consumers' budgets by raising the price of the service.
The global penetration of smart meters is expected to continue growing from an estimated 30 percent of all meters today, to approximately 54 percent by the year 2025(2).  At the end of 2016, electric companies in the U.S. were estimated to have installed 70 million smart meters, covering more than 50 percent of all homes in the country. This massive rollout is expected to continue and is forecast to reach 90 million by the year 2020.(3) Usage of smart meters for prepay energy services is expected to quadruple ― from approximately 700,000 in 2016 ― to over 3 million by the end of 2021.(4) More than 200 electric utilities in the U.S. are currently offering prepaid services based on AMI infrastructure, according to the latest research from Prepaid Energy Hub. Adoption of this new alternative is most prevalent in the Southeast, and distribution cooperatives have emerged as the early adopters. Competitive retail electric providers have also adopted prepaid energy offerings, but at a more moderate pace.(5)
For electric utility companies, prepaid electric service  offers multiple advantages:
Greater control over power usage
Reduction in peak-loads using time-of-use tariffs or load-shedding schemes
An incentive for customers to comply with established conservation programs
Reduced costs from invoicing, collections, complaint handling, service termination and reconnection processes
Improved user satisfaction with a budget-friendly service
Reduction in fraudulent connections
Reduction in uncollectible debt
Both Tri-State EMC and Oklahoma Electric Cooperative (OEC), report significant declines in debt write-offs as utility companies that have implemented prepayment options. Additionally, Tri-State EMC notes that total bad debt has fallen more than 50 percent over two years for these companies. AT&T estimates that if a utility has 250,000 consumers and 10 percent of them participate in prepay, the utility could make savings of $5 million to $15 million a year.(6)
From the electricity consumer's perspective, the key advantages include:
A new service alternative aligned with their ongoing payment capability
A greater sense of control
No surprises on their utility bill
A clear link between daily electricity use and electricity spending
The ability to manage budgets and prioritize spending, resulting in a greater ability to take action on reducing bills
Reduced consumption
Direct and immediate feedback leads to reduced energy consumption, which saves consumers money. The prepay power model has been estimated to reduce average consumption by roughly 10 to 15 percent, which is significant when considering that behavioral efficiency programs based on energy usage reports alone have shown to yield a maximum reduction of 3 percent. In a 2008 survey of Oklahoma Electric Cooperative (OEC) prepay consumers, 85 percent of respondents on a prepayment plan reported that they feel more conscientious and conservative about their electricity use, and 50 percent said that monitoring usage led to cost savings.6
With these benefits in mind, it's easy to see how prepaid electricity is poised to become an increasingly important offering for utility companies and continue to grow in consumer demand.
The growing acceptance of prepaid energy, driven by the clear benefits it provides to both utility companies and consumers alike, helps explain and underscore the relevance of this new commercial strategy for utility companies. To capitalize on this emerging opportunity, electric utility companies are faced with the challenge of developing their processes to fully harness the benefits of this new commercial alternative. Their prepaid energy strategy must be paired with a technological solution that fully covers the company´s primary commercial processes and offers the right capabilities to successfully deploy this new offering in a way which clearly distinguishes them from the competition. Any technological solution that a company relies on to drive their prepaid energy strategy both commercially and operationally should provide the ability to offer varying rates for different plans, easily sell the service, monitor consumption, remotely activate and disconnect customers, and provide dashboards which use real-time data to facilitate meaningful decision-making and control.
(1)Northeast Group, LLC ― http://www.prnewswire.com/news-releases/96-billion-is-lost-every-year-to-electricity-theft-300453411.html.
(2)Navigant Research ― https://www.navigantresearch.com/newsroom/the-global-penetration-of-smart-meters-is-expected-to-reach-approximately-53-by-the-end-of-2025
(3)Edison Foundation Institute for Electric Innovation, Electric Company Smart Meter Deployments: Foundation for a Smart Grid, Adam Cooper, October 2016. Available at: http://bit.ly/ami-2
(4)Quindi Research ― https://www.exceleron.com/wp-content/uploads/2017/03/QRL-US-Smart-Prepaid-Utilities-Report-Summary-Exceleron-1.pdf.
(5)Prepaid Energy Hub ― http://prepaidenergyhub.com/
(6)U.S. Department of Energy, Bridging the gaps on prepaid utility service.
https://energy.gov/oe/articles/bridging-gaps-prepaid-utility-service-report-now-available