Multiple forces such as customer expectations, new laws, and market competition are driving transformations in utilities. What better way to tackle these new challenges quickly than by implementing Open Smartflex? With its evolving capabilities, utilities will be ready to face any obstacle while improving customer satisfaction and profitability.

The utility industry has, without a doubt, changed drastically in the last decade. With rises in environmental awareness, legislation, customer expectations, and emerging technologies, service providers are constantly reviewing and improving their business strategies to keep up with continually emerging challenges.
The biggest drivers for change in any company are, unquestionably, customers and the government. Because of this, organizations around the world are being impacted by the rise in environmental awareness. This tendency towards sustainability and the introduction of renewable energies are pushing utilities to offer more options that reinforce eco-friendly preferences and strengthen their position to help the environment.
Governments and intergovernmental organizations are also driving changes in the utility industry through new legislation and policies. Some of the guidelines are aimed to reduce carbon emissions, promote environmental conservation, and help societies worldwide. Consequently, service providers must develop and deliver offers and programs that consider community well-being and renewable sources in order to stay on top of the game.
These new offers and programs are related to green energy programs, electric vehicle special charging rates, eco-friendly device marketplaces, new pricing schemes and other services that also respond to customer expectations about their environmental concerns. Moreover, customers are expecting a digital and easy interaction with their service providers to get these new eco-friendly services.
Because of the need to support market needs in a short time, the industry has adopted the term Time to market (TTM), which is the time that elapses from the conception of a new idea until it is launched on the market. The ability to be quick enough leads to competitive differentiation among all the players in the industry.
As a result of consumer and government demands, utilities need to invest in emerging technologies to support new and easy interactions. Ideally, service providers should adopt a digital platform that allows users to make recharge payments, monitor their usage, and manage their schedules, among others, with just one click. This way, utilities will have the ability to respond to customer requirements at the right time.
In addition, digital ecosystems, considered as an emerging technology, are increasing competition due to the new capabilities enabled in the marketplace. This is not only about customer-facing processes with digital interactions, but also, supporting new products/services and improving operating conditions. To stay ahead of the market, utilities need to have the right technology to create a digital ecosystem according to improve overall satisfaction and attract new customer segments.
All these forces described demand utilities to review and analyze their business priorities, which include understanding market requests, looking for innovative ways to grow, learning how to meet current and future needs and investing in environmentally friendly sources and technologies. This allows utilities to be quick enough to reduce time to market undertake all these improvements, and develop new services and products in the market.
The solution to your needs
Service providers need to search for a modern solution with a modular design that effectively adapts to utilities' needs and reduces time to market, responding quickly to industry changes. The following characteristics make up the key software that can answer your needs:
¡Open International, the best partner!
Utilities need to manage their businesses with adaptable capabilities, not to survive, but rather to stay ahead of the market.
Open Smartflex is a cloud CIS extended in Meter Data Management (MDM), Mobile Workforce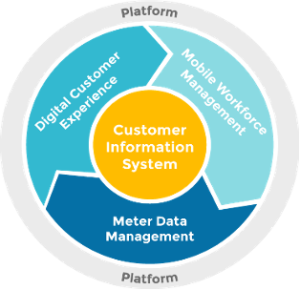 Management (MWM), and Digital Customer Experience (DCX) capabilities that create synergy with all the data, processes, and requirements of a utility's entire business cycle. This holistic approach enables service providers to manage activities from multiple applications, support
 interdepartmental collaboration, simplify daily efforts and boost company-wide efficiency.
Thanks to its flexible capabilities, which include workflows, frameworks, product catalogs, and a business rules engine, Open Smartflex allows utilities to design and deliver emerging services, new products, and different offers and programs like green energy, electric vehicles, and demand response programs. Additionally, the solution supports new rate schemes to bill these new services and match any regulatory request. As a result, service providers accelerate the creation of a new portfolio, obtaining more commercial opportunities.
Customers can access the portfolio through the cognitive self-service platform that allows them to purchase additional products thanks to a marketplace-like interface. They can also access dynamic usage graphs and comparisons to manage their usage, review and pay bills, and enroll in new programs, enabling digital interactions with the provider.
Open Smartflex also offers constant updates, which means new capabilities and extended functionalities through non-disruptive releases that help utilities stay ahead of rising requirements and adapt efficiently to them. Moreover, to further enhance capabilities, Open Smartflex provides a specialized integration tool to optimize communication with different systems, while creating the ecosystem that utilities need. 
Open Smartflex is a modern CIS that empowers service providers to reduce their time to market through flexible tools, evolving capabilities, and easy system integration that leverage their current position in the industry and enhance future competitiveness.
Learn more about how proactive interactions can enhance your utility's customer experience.