CIO Review, a technology magazine, specialized in business solutions, included Open in its list of the "20 most promising utilities technology solution providers-2018", which highlights the innovation- leading companies that help utilities to face the challenges of their industry.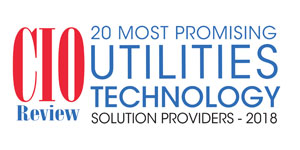 This ranking is developed by the editorial team of CIO Review – an international publication that deals with the analysis of products, services and technological trends that are transforming traditional business models – and a panel of CEOs, CIOs and VCs from different companies, who examine the current landscape of the North American market in search of technology providers that help companies redefine their business objectives in the changing environment of the utility industry.
The inclusion of tools such as Big Data, IoT, and cloud solutions is revolutionizing the operations of utilities that use these new technologies efficiently to respond to market demands. Supported by software solutions, these companies can implement new business models, in line with industry trends, to have greater control over consumers, optimize the use of energy, and include renewable sources in the generation of the resource, among other things.
In that sense, the selection of Open for this list corresponds to the company's ability to provide utilities with business technology solutions, either on-premise or in the cloud, which contribute to the implementation of innovative business strategies, as well as to the fulfillment of corporate goals.
Commenting on the inclusion of Open in this ranking, Jesús Sánchez, Vice President of Marketing of the company claimed:
"This recognition is of vital importance for Open, since it ratifies the quality of our solutions and services and highlights our ability to create cutting-edge technology that meets the needs of the sector in a global context"