Utility companies are looking for new ways to develop their business while reducing expensive and time-consuming IT overheads. Cloud computing has emerged as the answer to these needs and started to quickly establish itself as a key technology of the utility industry. Thanks to its availability, flexibility, and scalability, the cloud is quickly becoming an indispensable part of digital transformation strategies.
Cloud for utilities is quickly becoming the new normal as companies are enticed by the unique benefits offered by this technology. This model can lead to lower TCO by consolidating IT architecture into a single system which is always up and running; but more importantly, it lets businesses forget about the headaches of support, upgrades, and maintenance, as these tasks can be taken care of by the software provider.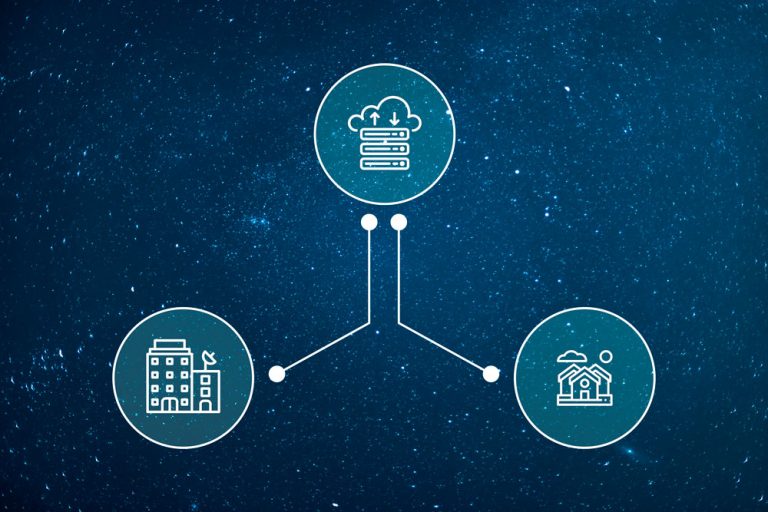 When utilities consider moving to the cloud, system security is typically the main factor that makes them think twice before making the jump. Security is a complicated topic and there is no black and white answer when it comes to on-premise vs cloud; however, with the quickly growing range of high-quality cloud solutions on the market and the fact that many businesses have been operating on the cloud for years without experiencing a security breach, industry confidence in cloud solutions is steadily increasing. In fact, when doing a detailed security analysis, companies may even find that their in-house systems are less secure than they thought and that a professionally-run cloud service could offer more security than their existing systems(1).
Many companies have already gotten past their concerns about cybersecurity on the cloud and are instead focusing on the flexibility and scalability offered by this new model, not to mention the potential for IT infrastructure saving of up to 30%(2). With these benefits in mind, utilities are increasingly looking for a Software-as-as-Service (SaaS) or a hosted-solution CIS to back all their commercial and operational processes while also guaranteeing system security and real-time system monitoring. One of the best parts of cloud computing is that the solution provider takes care of IT management, allowing utilities to focus on developing business strategy and responding to industry demands. Furthermore, system updates are carried out behind the scenes which mean companies can continue their work without interruption or costly downtimes.
Open provides innovative technology to utility companies in the form of a holistic cloud solution, Open Smartflex, which allows the streamlining of operations across multiple business areas along with all the benefits of the cloud. In addition, it is enhanced with tools, such as Open Vital Signs, to guarantee maximum performance through real-time diagnosis.
Come see us on February 18th at Cloud for Utilities in Washington, DC to learn more about Open's cloud services and the way we can help you steam ahead in the technological revolution currently disrupting the utility industry.
(1) TMG Consulting. (2018). Utility Industry Disruption: 5 Profound Trends Impacting IT Modernization Projects. http://www.csforms.org/Conference42/Workshop%20pdfs/TMG.pdf
(2) Deckler G. (2016). Cloud vs.On-Premises Costs. https://www.fusionalliance.com/wp-content/uploads/2016/07/faCloudOnPremisesFoundations.pdf