Many utility CEOs are at a crucial juncture where they must make an important decision about the deployment and effective management of smart metering. They need to decide whether to invest in a Meter Data Management System (MDMS) and continue with their legacy Customer Information System (CIS), or invest in a next-generation CIS that also supports the new business requirements related to the Smart Grid. To make this decision, it is important to understand the ways in which each option can support the strategic needs of utility companies.
As time goes by, more utilities are adopting smart metering a technology that requires new meter data management capabilities. In the past, utilities would handle one meter reading per customer per billing cycle but now they need to manage more than 2,800-meter readings per customer each month. For a company with 40 thousand customers, smart metering can result in over 100 million total monthly meter readings, a phenomenon commonly known as "massive meter data".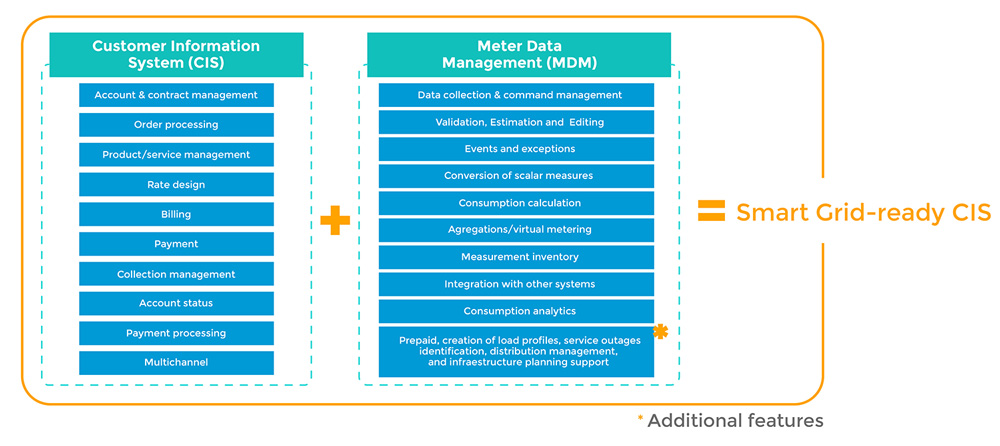 Once utilities have deployed smart meters on their networks, they need to enable communication with new AMI platforms, manage smart meter events, detect abnormal consumption patterns using interval readings, and accurately calculate billing determinants.1 While this is not completely new for utilities, these tasks do require a lot of time and work. Luckily, software providers have been working on specialized solutions for meter data management which allow utilities to complete all these tasks with minimal effort; and thus, the Meter Data Management System was born.
MDM systems are designed to track smart meter inventory and handle meter communication such as the collection of information through head-end devices and the dispatch of commands through meter networks and AMI platforms. Furthermore, MDM systems provide a view of alarms or warnings when devices are having an issue with normal operation.
Until recently, the MDM system was a far cry from traditional CIS solutions; however, the MDMS is now including advanced features typically provided by CIS such as estimating invalid or missing readings, calculating billing determinants, aggregating usage, validating meter readings, and providing data to downstream systems. The main difference between the two solutions is that CIS has been traditionally designed for analog meters, whereas MDM systems focus on smart meters and functionalities related to AMI.
While MDM systems are slowly growing into the CIS market, CIS solutions are also evolving and adopting MDMS features to help utilities smooth the transition towards smart metering and reduce total cost of ownership. Bearing this in mind, CEOs now have two options; they can either add further complication to their IT architecture through the adoption of an MDMS or upgrade to a new CIS which also covers MDMS features.
It is a common belief in the utility market that to handle customer information and meter data, two distinct solutions are required; however, what if there were a new generation of Customer Information Systems which surpassed industry expectations of AMI support?
Recently, utilities have placed new demands on their MDMS, stretching capabilities to work across diverse utility systems and support applications beyond the traditional meter-to-cash and customer information system (CIS) functions2.

Navigant Research
Let's review the main aspects that CIS solutions are including to guarantee success in the deployment and ongoing management of smart meters.