Service providers are introducing a variety of initiatives to help their customers during the COVID-19 pandemic, which creates the challenge of maintaining total control over critical billing and service processes. Success in that regard will depend on having a flexible technology solution that can adapt to the emerging changes in their operation.


During these difficult times caused by the widespread outbreak of COVID-19, utilities are stepping up their role to help society maintain its modern living standards. By introducing different temporary measures, these companies are assisting customers to relieve financial pressures while securing the delivery of services throughout the contingency. This allows customers to follow government recommendations regarding voluntary isolation and social distancing without having monetary concerns.
The following are concrete examples of many actions implemented by service providers worldwide:
Reconnection of customers with outstanding bills.
Billing using estimation methods to allow a halt on-field reading.
Temporary pause on interest and late fees.
Discounts to those customers that can afford to pay bills on time.
The prepaid balance used only for consumption and not to recoup outstanding debts.
Pause upcoming disconnection orders.
Payment plans, extensions, and rebates based on each customer's characteristics, needs, and concerns.
Grace periods.
The introduction of these measures represents a significant challenge for service providers that support their operations with legacy systems unfitted to handle such disruptive adjustments. Implementing these initiatives using outdated systems may require a greater effort in terms of the customized developments that need to be performed, which in turn complicates their maintenance and creates difficulties for later upgrades. Even more allegedly modern solutions may require an ecosystem partner to assess the impact of these measures in the business and translate them to the system via developments.
How is Open Smartflex supporting utilities these days?
With a powerful billing engine built to execute the most challenging scenarios, Open Smartflex's Holistic CIS helps companies cover every emerging need entirely. In fact, service providers currently using Open Smartflex have implemented every adjustment and business initiative with agility thanks to its robust and flexible technology, which enables every possible configuration needed to adapt key billing and service processes. By using Open Smartflex's rule-based engine to create objects, variables, and instructions autonomously in a user-friendly rule editor, utilities' IT teams can define specific billing schemes that apply to a specific segment of customers and adjust them as needed. Thus, service providers can adapt bills based on the particular characteristics and exceptions of each customer.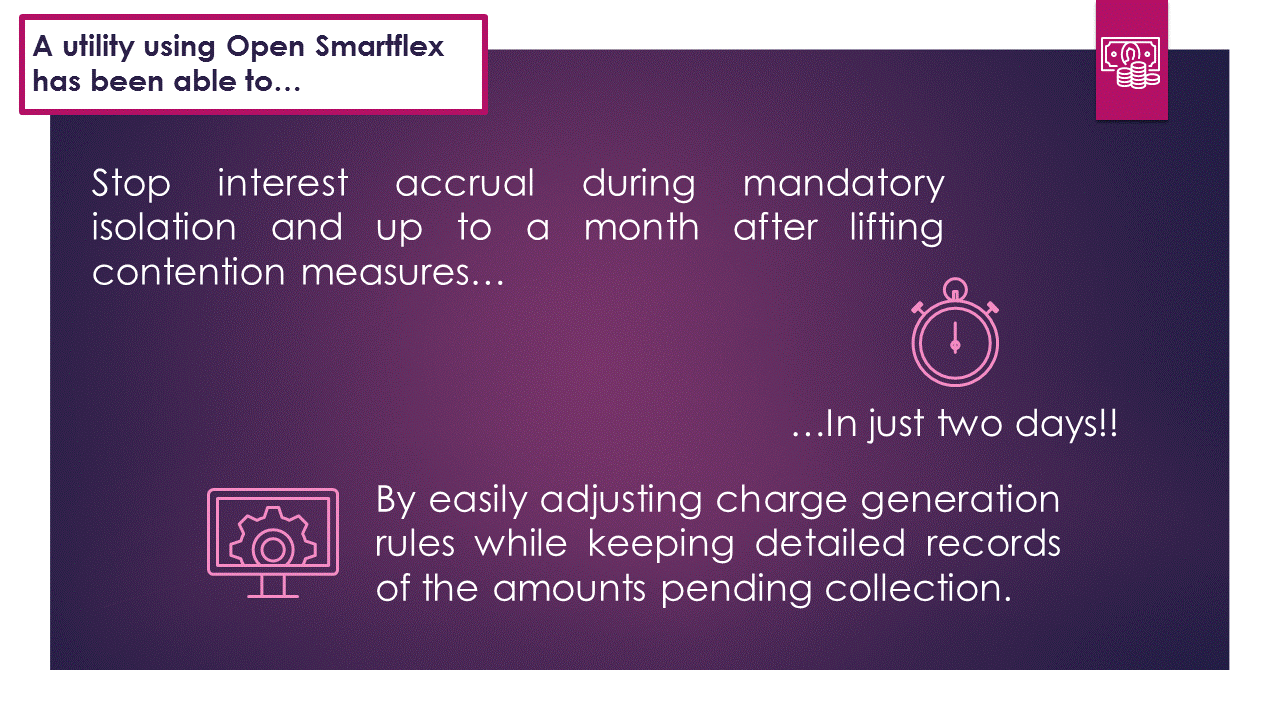 With Open Smartflex, a utility was able to implement a temporary hold on interest charges of past-due debts for those customers unable to pay bills while lockdowns and quarantines are enforced. The utility was also able to grant a discount to customers who are capable of paying bills on time. This way, the service provider can reaffirm its commitment to the community, emphasizing their support to those who may be struggling during these times, while securing a source of revenue to sustain their operations.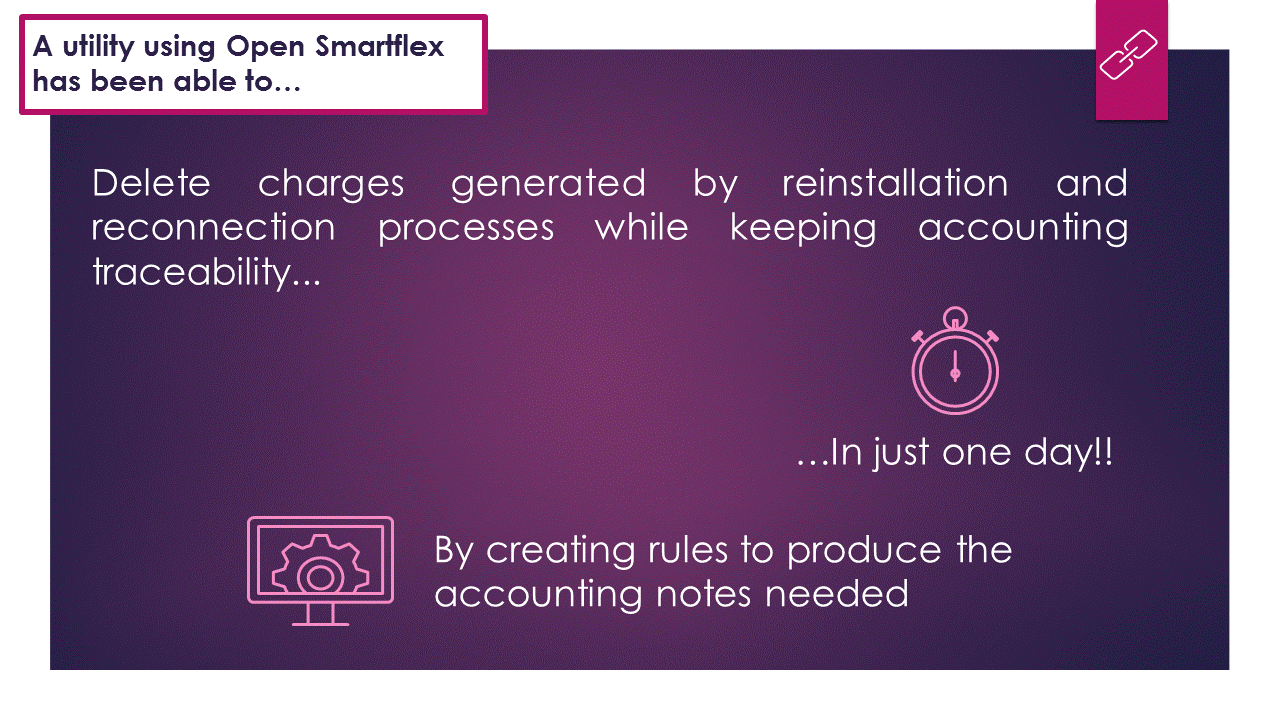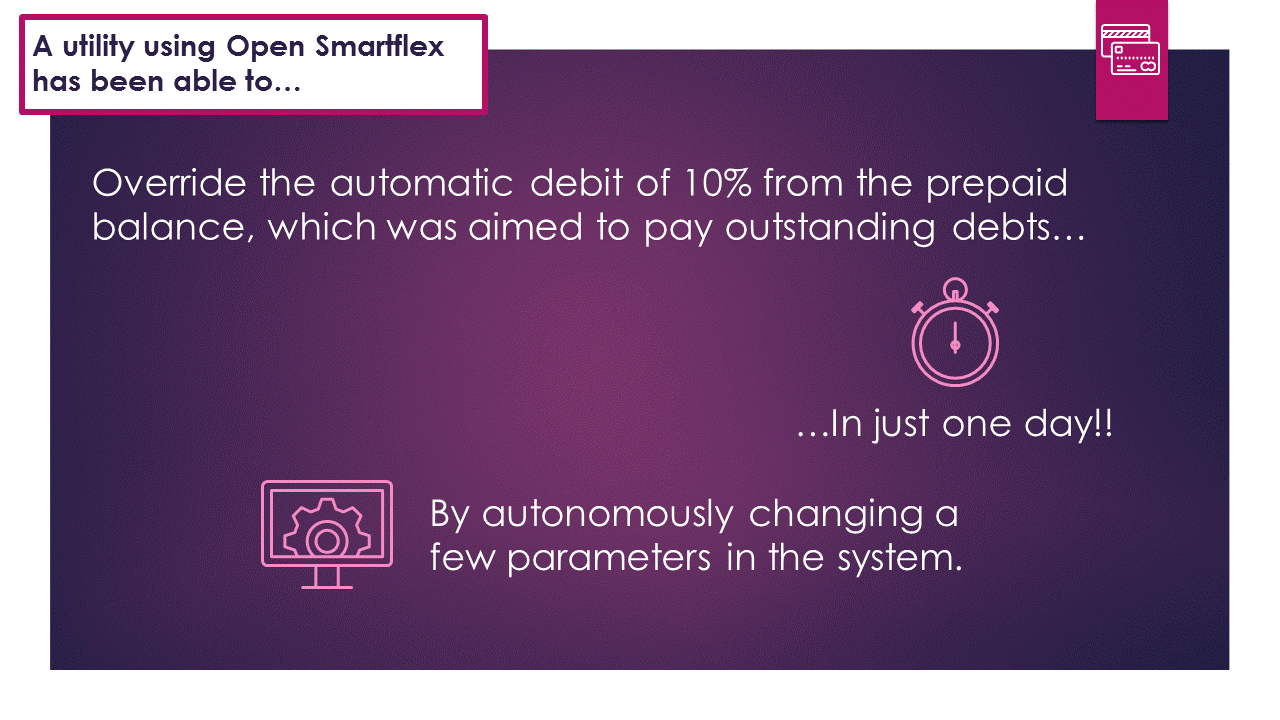 In these situations, utilities must also protect their office staff and field service crews by adapting operational processes to enable home office modalities and introducing safety procedures for tasks performed on-site. To achieve this, they need to adjust business workflows, which can be difficult for companies using legacy systems that cannot track such modifications. This limitation increases the risk of losing information, making errors related to unsystematized record keeping, and being incapable of taking protective measures to face the pandemic. The service providers that support their operations with Open Smartflex are using the journey orchestration tools included in the solution to coordinate an array of customer-facing processes seamlessly with back-end and field activities.
Implementing service changes is made possible thanks to Open Smartflex's flexible workflows that ensure traceability while delivering superior customer experience. These adjustments include the management of customer requests by service representatives working from home, the traditional on-site meter reading and the disconnection and reconnection works, just to name a few.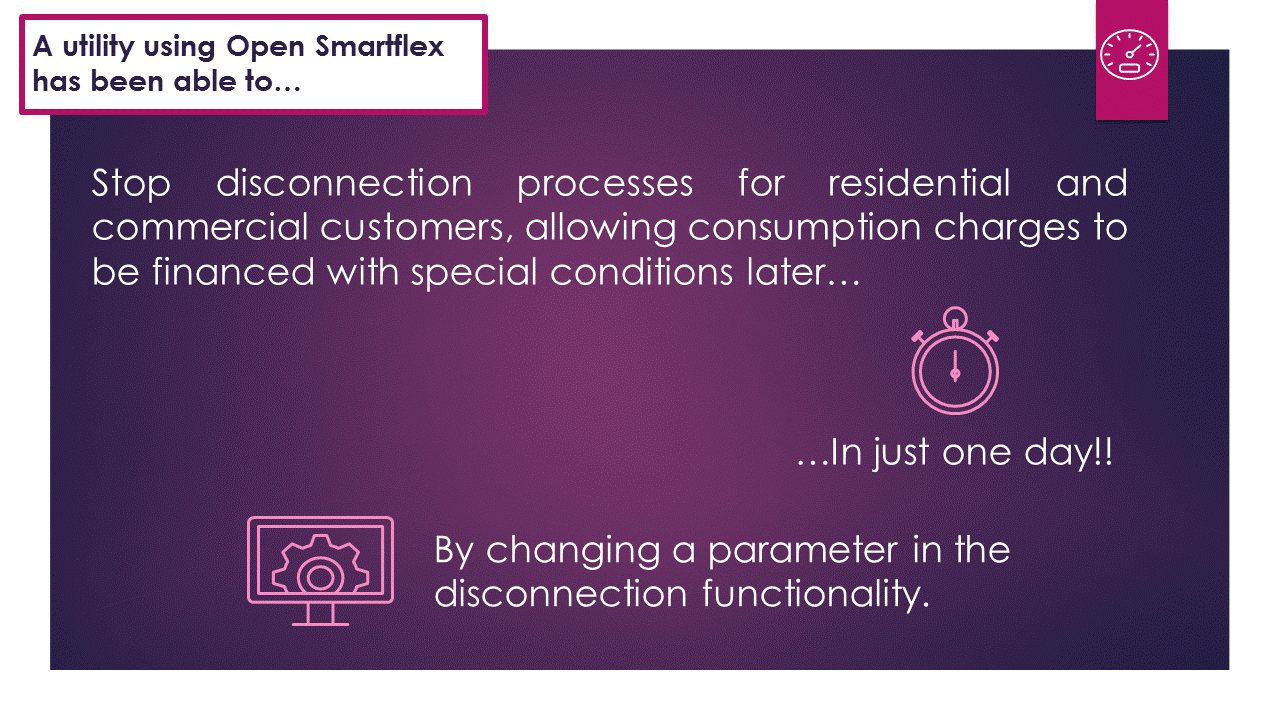 Several utilities from different countries are providing flexible financing alternatives to their customers, not only to speed up business turnover but also to help their users overcome difficulties in times of distress. An energy provider set a stipulation to automatically defer the payment of bills generated during the pandemic for up to 36 months and with a discounted interest rate, all in a couple of days. Later, when things return to normality and the collection management comes into play, service providers can rest at ease with Open Smartflex's customer-centric processes by defining personalized strategies to settle outstanding debts and resume billing operations.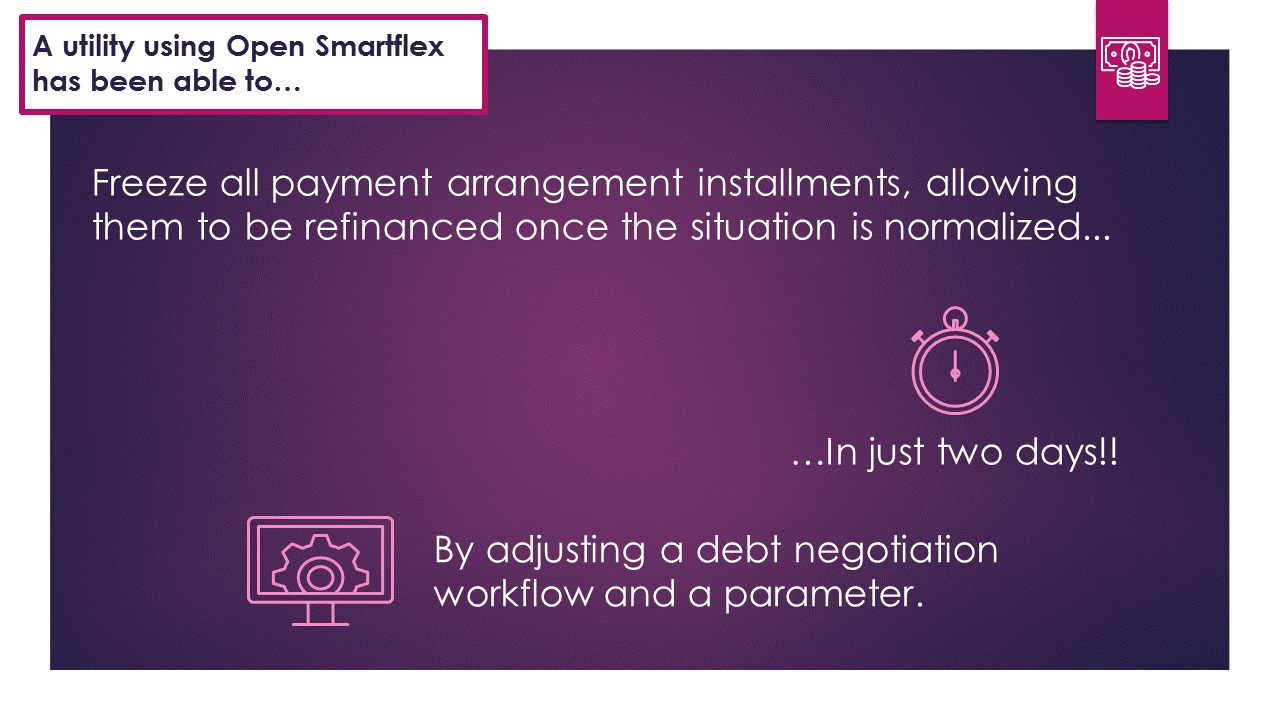 Another utility used Open Smartflex to create grace periods for both existing and new deferred payments, subsequently refinancing them for all users benefited at this time.
Through these capabilities, service providers are leaning on Open Smartflex to help them face the contingency and guarantee uninterrupted services during this crisis. Once the situation settles, Open will continue to help utilities restore normal operations, adjust service supply conditions, and reinstate billing practices to ensure financial stability.