Providing a next level customer experience is one of the big challenges that utilities are faced with in this digitalization era. An essential part of reaching your utility's full potential in customer experience is to choose the correct software provider. Modern CIS, Open Smartflex, is a customer focused solution that allows utilities to offer exceptional service to their customers, ultimately improving customer satisfaction.
As consumers begin to demand more than just efficiency from their service providers, utilities have started looking for different technologies to help them better serve their customers. Today, customers are looking for companies that ultimately make their day-to-day simpler, through better and quicker communications with their providers and easy-to-use digital platforms and channels. Meeting these expectations is a great challenge for utilities. They need to deliver a reliable service that ultimately improves customers' lives while staying up to date with emerging technologies.
As a utility, having quality interactions with your customers has become one of the most essential and valuable aspects of your business. In order to improve these communication tactics, service providers need to focus on creating omnichannel structures that provide a variety of interaction alternatives, such as new generation web portals, SMS, and even chatbots. This ultimately provides a better customer experience boosting overall customer satisfaction.
"Today, more and more companies are investing in creating an omnichannel customer experience. The number of companies investing in the omnichannel experience has jumped from 20% to more than 80% since 2020." – PWC [1].
However, when introducing omnichannel communications to your business, utilities must also think of customer engagement strategies that go beyond a simple interaction. They should focus on creating a plan that delivers ongoing positive experiences and keeps customers not only coming back for the service but also because they feel supported and valued by the company.
Blog, Customerthink, stated that companies with the strongest omnichannel customer engagement strategies retain an average of 89% of their customers, as compared to 33% for companies with weak omni-channel strategies. [2].
To offer an effective customer engagement strategy that is up to date with today's digital world, utilities need to focus on choosing the right software provider that can help them deliver a world class CX with the use of technological tools. In fact, according to Techsee, 86% of utilities already use artificial intelligence (AI) in customer engagement applications, service channels and support, or digital marketing platforms which far exceed AI use in other areas of operation [3]. Therefore, establishing good customer engagement strategies that incorporate AI capabilities and technologies like chatbots is essential for a growing smart utility.
Throughout the years, service providers have experienced an exponential evolution in customer engagement strategies. At first, utilities would get by with a simple indirect interaction simply sending their customers their bill. Now, utilities are expanding their customer commitment and searching for innovative strategies that create exceptional customer-centric experiences. Utility software provider, Open International, understands how customer engagement has evolved and the importance of exceeding customer expectations. That is why they developed Open Smartflex, a modern customer care and billing solution that focuses on providing exceptional experiences and interactions. As part of
this innovative system, Open developed a capability called Proactive Interactions, which is leading utilities to create next level customer engagement strategies with the use of artificial intelligence capabilities. A proactive interaction is a simple, efficient, and personalized way to interact and engage with customers in order to anticipate their needs even before they know they have them. With this feature, utilities can take advantage of AI technology to identify when a customer may have a problem or concern, allowing the company to make the first interaction. This gives customers peace of mind that their service providers are taking care of their needs and doing everything to keep them happy.
Let's take a look at what a simple Proactive Interaction journey looks like: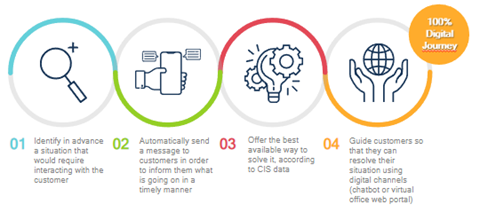 How to build a strong customer engagement strategy
If your utility is not up to date with proactive interactions, don't worry. Improving your customer engagement strategy is a process that takes time and lots of trial and error. If you're just beginning this customer experience transformation, the best way to start is by going journey by journey, focusing on quick wins that increase value with a simple implementation. Identifying the journeys that are most important to your customer will help you understand what to focus on first. With this in mind, also try to measure how satisfied your customers are with those specific journeys and discover what pain points they deal with when engaging with your utility. These steps will guide your utility in defining which journeys can bring a better value to your customer.
Now that you've discovered what's important to your customers and what their pain points are, identifying which of those journeys are easier to implement will help you prioritize them. This way, your utility can implement the necessary technologies to create the right customer engagement strategy for your utility and gradually deliver new improved digital journeys to your customers. Keep in mind that through this customer engagement transition, you will have to continuously monitor your customer satisfaction and interaction channels. This will help you stay up to date with new technologies and make changes if need be. Always be prepared to adjust your strategy in order to meet your customer needs.
Keeping up with customer expectations while also being innovative can be quite a challenge for utilities. That's why it is important for utilities to partner with software providers, like Open International, that have the technological capabilities to overcome these obstacles. Evolving the way, you communicate with your customers can ultimately bring a variety of benefits such as enhanced customer experiences, increased productivity, and improved decision making, just to name a few. All in all, having a consumer-focused journey is the key to taking your utility to the next level and ultimately keeping your customers happy.
watch this short video which explains how this innovation works, to learn more about how utilities can guide their employees to success!