Energy, gas and water service providers are currently facing challenges similar to what telecommunications companies encountered several decades ago, ranging from the integration of the latest smart devices, the focus on improving the customer experience, giving relevance to every interaction, addressing requests in a timely manner, and giving customers the opportunity to view their consumption in real time.
Looking back on the evolution of telecommunications companies over the  last 40 years, which involved both technological as well as cultural shifts—from the launch and subsequent widespread use of the Internet, to the introduction of smartphones—it has become clear that history has once again repeating itself, but this time in an entirely different business sector: the utilities market.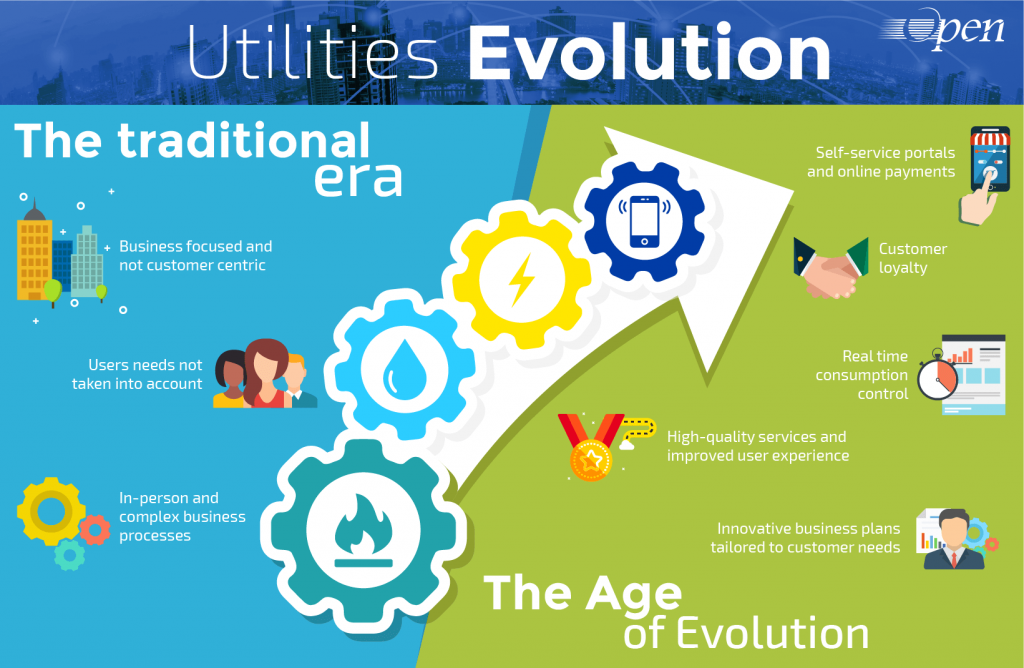 What we have labeled as a déjà vu for the utilities industry, initiated when its customers, already well aware of the advantages created through the use of technology use, began demanding a more evolved way of interacting with their utility service provider. This meant that users sought an experience geared towards speed, efficiency, autonomy and almost real-time information delivery, not to mention an excellent customer experience and high-quality service.
This customer-to-utility-service provider relationship can no longer be assumed to be "permanent" or "unique." Today's customers want to be able to use their mobile device to not only understand their energy, gas or water consumption activity at any time of the day, but to also have the ability to pay their bill on their cell phone with just a simple click of a button.
Competition is yet another aspect that has driven the evolution of the utility service sector. It's quite common these days to find more than one service supplier in the same city or operating area eager to attract new customers. What has become evident is that customers may now easily change to a different supplier if they're dissatisfied with the commercial conditions being offered or as a result of problems they may have experienced with the service. In fact, "energy brokers" have emerged into the scene in order to help users make the best possible decision about their utilities service supplier at any given moment.
The end-user has transformed into a more impulsive, technologically savvy and "unfaithful" customer, willing to challenge their utilities provider by asking tougher questions, such as: Has my consumption gone down? How much have I used? And, what is my usage balance right now? In light of these demands, utility service providers are expected to modify their technology platforms in order to continually create more appealing commercial offerings that will not only set them apart from competitors but also allow them to more rapidly adapt to the new demands of their customers, and support customer retention and loyalty processes.
A number of years ago, the telecommunications industry went through a similar scenario, where the need arose for companies to structure their commercial and operational processes around the satisfaction of their customer base. They achieved this by becoming aware of and subsequently monitoring their customers' consumption. Revisiting the history of this industry, it used to be that their networks were based on impulse counting meters, a unit base proportional to service usage in terms of duration and distance. CDRs (i.e., call detail records) gradually entered the picture, which were stored and read every hour, which subsequently became detailed event logs that allowed certain services to be offered, such as long distance minute packages, pay-per- view movies and packaged plans.
For several years now the telecommunications industry has been incorporating prepaid plans and controlled-service billing, two strategies that emerged out of the need to prevent users from being charged amounts they're unable to afford, which can end up causing financial losses for the companies involved. Nowadays, comparable approaches are being implemented by energy companies, who have devised the prepaid energy method, which functions similarly to how prepaid cell phones get refilled. Once the prepaid meter has been installed, the user may make an advance purchase of kilowatts, either through prepaid cards or remotely, whereby the quantity and cost of the refill may vary, depending on certain predefined customer variables.
While it's true that the concept of prepaid energy was initially tied to socioeconomic factors, it also reinforces a commitment to achieving total visibility and being able to monitor accounts in real time. According to figures presented in the "Pre- paid electricity plan and electricity consumption behavior" study carried out by George Mason University, "customers can generally expect to see around 12% in savings by using a prepaid service."
The experience of the telecommunications industry has shown that it is entirely possible  to maximize the value of adopting the newest service, and reap the benefits of technology and intercommunication between customers, companies, the service being provided and its usage.  Today,  the utilities sector has begun  to adapt to these trends and understand that every element, equipment, platform, household appliance or device has become a controllable information provider that can be used to generate useful information to the end user, even to the point where that same device is now able to initiate automated electric charging processes at key times during the day, or at night, when the energy rate is at its lowest levels.
In light of the challenges of the present day, if utilities companies as a whole are prepared to sufficiently examine, adapt and understand the experience demonstrated by the telecommunications industry, this will likely not only facilitate the proper implementation, but will also enable utilities companies to evolve at a rapid pace. Technology is not only shining light on the common patterns and behaviors that were once exclusive to each industry, it is also the key factor responsible for ensuring the successful evolution of companies and the satisfaction of their customers changing needs.