Meeting evolving community expectations, customer demands, and industry requirements is challenging for many municipalities. They need holistic and out-of-the-box solutions that provide world-class customer service, connect people with essential services, and improve productivity. Open

Smartflex

is a cutting-edge software that empowers municipalities to connect technology to operational management, better customer experiences, and socio-economic growth

.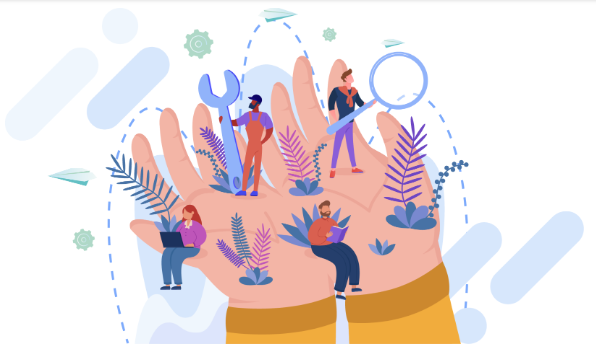 As the world changes, customers, governments, and stakeholders require more from their service providers. They are looking for innovation, sustainability, and affordability. These expectations are not different for utilities; public and private providers should transition towards offering renewable energies, higher quality water, and digital experiences. All these changes motivate structural transformations and strategy redesigns, which results in a complex challenge for municipalities. Along with fulfilling industry expectations, they also need to support their community's development and balance business resilience. Service providers should look for software solutions that optimize business processes, combine top-of-the-line technologies, innovative capabilities, and adaptability to customers' evolving needs. 
To tackle these challenges successfully, municipalities should review and analyze their operational, commercial, customer service, and digital strategies to understand their current position and design future steps in their transformation journey. Moreover, they need to align these new plans with their customer demands, regulatory changes, and objectives to create an end-to-end approach to their operation and capture real value. 
To be more resilient and adaptable to industry and community evolution, municipalities should focus on the following business goals: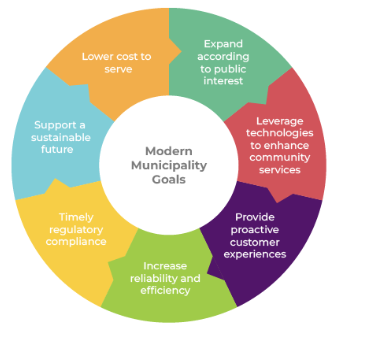 Pursuing these objectives helps municipalities become more modern, people-centered, and digitally ready for the future. Through the journey, they develop new capabilities and improve their ability to act according to multiple changes. Moreover, they strengthen their decision-making skills to satisfy new demands, optimize resources, and continue forging closer relationships with the communities around their operation. 
To achieve these goals, public utilities should rely on flexible and agile solutions that allow them to manage their business cycle efficiently, leverage emerging technologies, and provide better customer experiences. This type of solution should ease integration between multiple worlds that affect municipalities, like customer care, billing, metering, field operations, and meter data management. It should also allow them to model new programs that adapt specifically to their community needs and automatize processes to boost productivity.  By doing so, municipalities can accelerate multiple digital initiatives and improve the overall lives of their customers. Furthermore, it should enable them to embrace best practices in their operational activities and manage enhanced services like renewable resources, distributed energy, and advanced metering. 
Due to the increasing difficulty of attracting and retaining skilled IT professionals, it is also critical for public utilities to work with a reliable partner that can provide modern platforms and technical skills to support a robust and resilient solution. This way, they can ensure long-term stability to support the communities they serve and connect more families with essential services.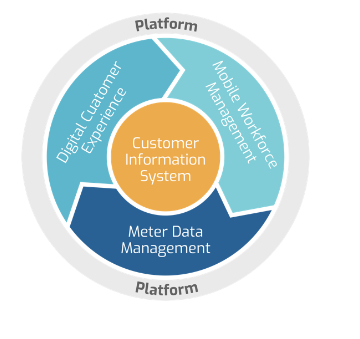 Open Smartflex, the right ally to better serve your community
Open International understands municipalities' needs and their desire to provide exceptional services and experiences to their communities. That's why they created Open Smartflex, a next-generation software stack with a CIS at its core. This flexible solution also includes Digital Customer Experience (DCX) features, Meter Data Management (MDM) characteristics, and Mobile Workforce Management (MWM) capabilities, covering all the critical aspects of a public utility's operation. 
By implementing Open Smartflex, municipalities can manage their operations using one single solution. This modern solution is equipped with traditional functionalities like billing, metering, credits, and collections, as well as sophisticated features like digital interactions, e-sales, advanced metering, mobile work orders, and work planning. Thanks to the solution's holistic nature, Open Smartflex can help public utilities optimize their operational work to focus on their citizens and the overall well-being of their community.  
To grow according to your community's interest, Open Smartflex allows municipalities to model and deliver suitable offers and programs for everyone. With a configurable product catalog and prepackage capabilities, the solution allows public utilities to gather and classify data across interactions, transactions, and operations to understand their customers and provide the right solution to satisfy each family's specific needs. Open Smartflex also helps municipalities to deliver these new programs and proactive customer service through an intuitive self-service portal. The portal offers AI integration through chatbots, personalized communications, and detailed data that prompt meaningful experiences and educate customers on their consumption patterns. Additionally, the solution supports omnichannel features, allowing interactions to start in one channel and finish in another, giving public utilities and their communities multiple ways to stay connected. 
Aligned with its holistic approach, Open Smartflex comes with a CSR application which is an intuitive interface that provides a 360° view of every customer. This functionality allows customer service representatives to have updated information about their customers, including their transactions, history, requests, and processes to solve any issue. With this unique and powerful feature, municipalities have everything they need to deliver exceptional experiences to their communities. 
Open Smartflex offers the flexibility and agility municipalities look for by giving them the necessary tools and a powerful engine to manage multiple services, monitor operations and business in real-time, and comply with new regulations in a timely manner. The solution also helps public utilities to stay cost-efficient by offering a multilayered structure that integrates seamlessly with emerging technologies. Thanks to this approach, service providers can enlarge their scope and implement new functionalities at their own pace, avoiding additional development costs.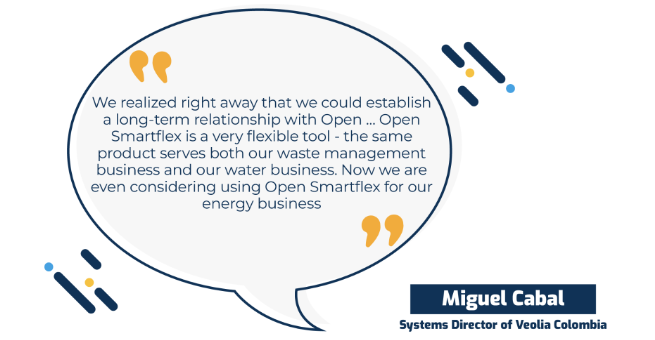 Ultimately, this solution is best suited for public utilities looking to transform their processes digitally, improve business capabilities, and offer exceptional customer service. With Open Smartflex, municipalities have a single view of their operation and manage it effectively to focus on connecting families with essential services. 
Achieve your digital goals
Open Smartflex is a best–in–class holistic solution with a CIS at its core that has been expanded in three dimensions: Meter Data Management(MDM), Digital Customer Experience(DCX), and Mobile Workforce Management(MWM) which are the key capabilities to ensure the success of any utility business