UX-centered software and digital platforms provide a higher ROI for utilities and telecommunication companies. As your workforce and customer base are increasingly dominated by millennials, it is vital to understand the relevance of a well-designed customer information system and the impact UX can make on customer service.
Millennials are the most dominant generation in the labor market and they will soon the biggest generation in the U.S, so their needs and expectations as employees are increasingly influencing customer service.(1) As a result, many utilities and telecommunication companies are trying to accommodate the needs of this generation and transition to a more employee-centric workplace.
As part of this transition, utilities are leaving behind traditional customer information systems, which were built for robust billing capabilities without much consideration for UX and customer relationship management. In addition, traditional systems are not designed for executing tasks as part of a customer service process which often means that CSRs must use several screens to solve a single case that involves multiple tasks. Another issue of traditional systems is their lack of tools to graphically present information or generate reports; companies with such technology often have to adopt additional systems to deal with reporting, which further clutters up their overall IT ecosystem. With all these issues, traditional systems are becoming increasingly inconvenient for employees, leading companies to replace their legacy systems in order to meet the needs of the modern workforce.
Millennials are the new generation of employees and they expect modern information systems focused on user experience. To meet their needs, employees should adopt systems specially designed to provide a streamlined UX which increases productivity and allows workers to serve customers more effectively.

Driving business improvements through investment in usability
Usability and user experience (UX) are closely related and fit together perfectly to solve the above-mentioned problems of traditional systems. Usability is defined as the effectiveness, efficiency, and satisfaction with which users perform tasks in a system and UX refers to the overall experience of employees using the system. A system with a high level of usability is efficient, easy to learn, aesthetically pleasing, and recovers quickly from errors. These aspects are written into the DNA of cutting-edge Customer Information Systems to help companies create experiences tailored to the generational characteristics of millennials.
Return on investment in UX-centered CIS can be measured in the following ways: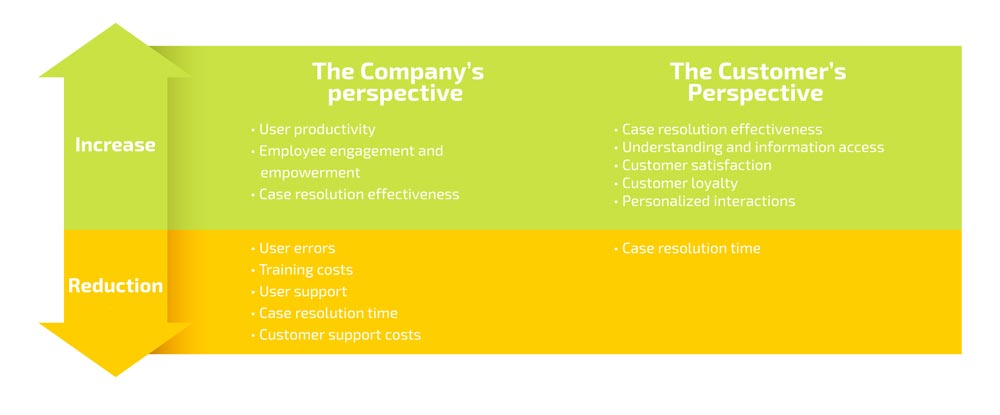 Considering all the benefits that utility and telecommunication companies can experience with a well-designed UX, it's time for them to forget the frustrations of their legacy systems and upgrade to a UX-centered CIS solution. By empowering CSRs with the right tools, they can work more productively, engage more effectively with millennials, and provide better customer experiences.
(1) http://www.pewresearch.org/fact-tank/2018/04/11/millennials-largest-generation-us-labor-force/