The changes currently reshaping the utility industry are driven by the need to provide customers with a great experience when interacting with their service providers. To face this reality, utilities now must undertake a digitalization strategy to turn into a successful Customer Experience organization.
Utilities are facing increasingly high expectations from a new generation of customers demanding compelling experiences when interacting with the company. This situation is forcing them to place customers at the center of their operation and has made Customer Experience (CX) to gain traction relentlessly in the industry, up to the point in which business success will depend mostly on delivering the best experience to customers.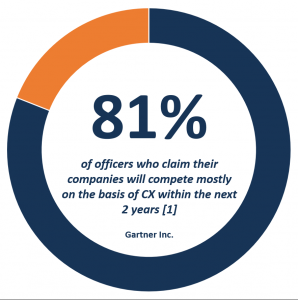 Figure 1. Competition based on CX.
However, transforming into a CX organization represents a daunting challenge. To begin with, utilities must consider the essential components they need to count with and, then, embark on a CX project following a well-defined, corporate-wide strategy that includes the overhauling of technology, processes and overall company mindset.
Think in terms of customer journeys.
Being able to map the way customers interact with their service provider is the cornerstone of any CX effort. By implementing a customer journey approach, utilities understand how customers behave and feel at each point of their journey. However, these companies must concentrate on the moments that matter the most for them, which are the key operational journeys that ultimately allow relieving pain points and generate wow moments that supersede customer expectations.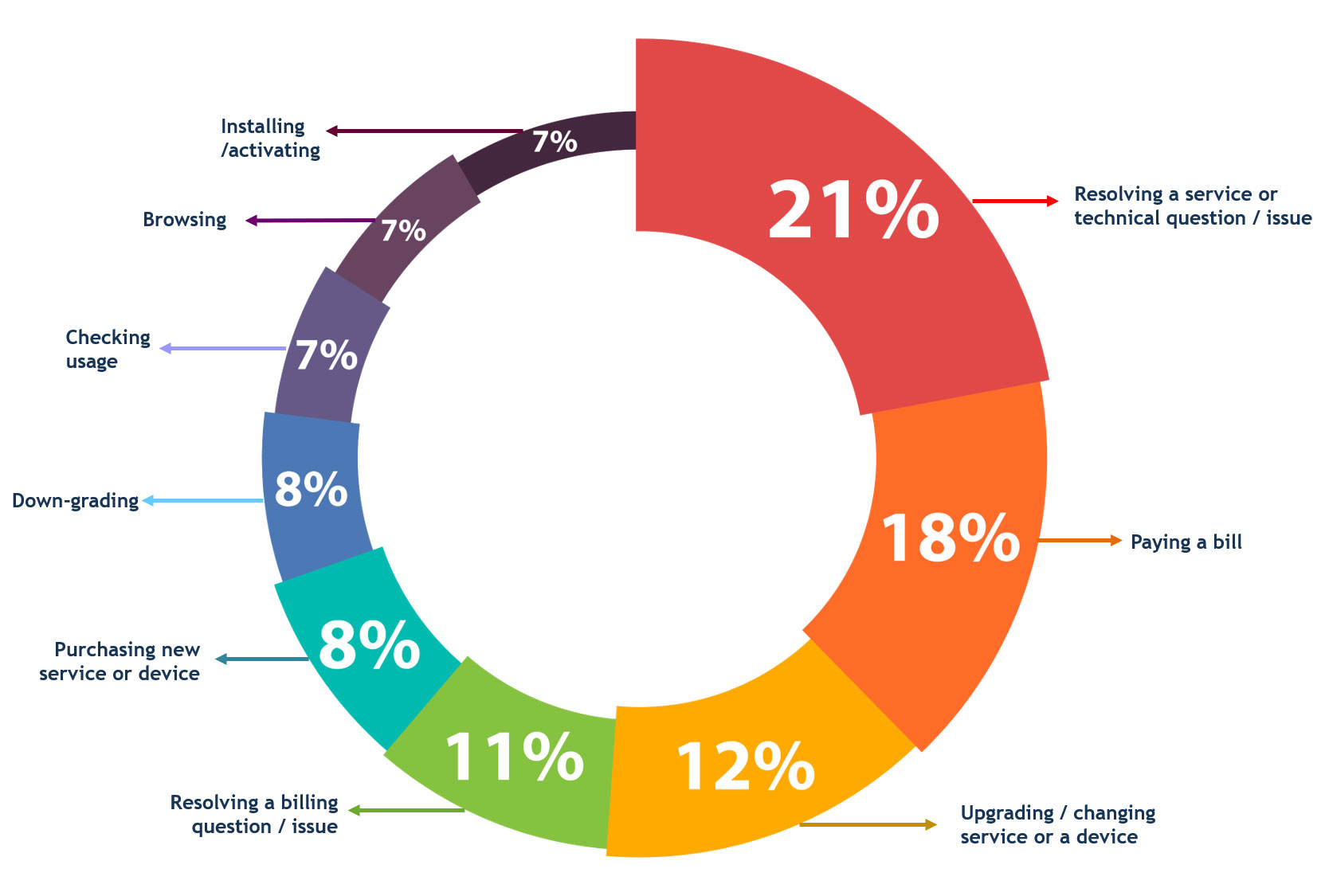 Synchronize all processes.
All customer-facing processes require being coordinated to craft a frictionless, cohesive experience. Still, this task has proved to be easier said than done because the typical business logic is to use different systems to support each side of the operation and to manage customers: a Customer Relationship Management (CRM) enables strategy, and identifies and manages customer relationships [3]; a Customer Information System (CIS) addresses business-critical utility meter-to-cash (M2C) and customer service business processes [4]; a Meter Data Management (MDM) controls consumption and event data obtained from meters [5], and a Mobile Workforce Management (MWM) helps deliver on and optimize utility-specific needs and achieve greater field productivity [6]. As a result, utilities are faced with a complex integration landscape in which the information is 'lost in translation'. Instead, having a single solution that facilitates processes to be tightly synchronized allows customers to travel a seamless path across all the stages of their journey while the magic happens backstage without them perceiving it. Thus, every service situation is solved efficiently, increasing satisfaction, and promoting a sense of promptness among them.
Omnichannel management.
Utilities must have a wide array of mechanisms to establish fluent communications 24/7 with their customers, enabling them to reach out to their company using their preferred channel.
However, this makes the management of the information coming from different sources difficult, creating barriers for Customer Service Representatives (CSRs) to have access to unified information of all the interactions with customers. To help them perform better, they need to be presented with a 360° view of the customers' information and their interactions, including those carried out through web and mobile portals. Delivering a great experience depends on the ability to track and keep the context of every interaction, no matter the touchpoint in which it occurs.
Listen to customers.
To avoid wrong assumptions about customers' thoughts, desires and behavior, utilities must develop in-depth processes to capture their expectations, preferences and aversions. By using mechanisms such as surveys, focus groups and online feedback, companies can know first-hand how to focus their CX endeavors, giving priority to the Voice of the Customer (VoC).
The role of data analysis.
All data coming from customers' interactions must be enhanced with analytics to transform it into valuable information that help decision-makers boost the CX. Given the dynamic nature of customer expectations, being able to introduce timely improvements underpinned with data is vital for utilities.
Quality assurance.
To maintain quality over time, utilities must keep control of all processes to detect and resolve any issue hindering performance in customer service. By implementing such controls, companies assure high-quality standards and prevent service problems, delivering captivating experiences that live up to customers' expectations.
Open has helped more than 100 companies embrace every essential component of a CX organization by defining a digitalization strategy that combines the power of a leading-edge solution with a complete redesign of the way these companies engage with their customers.

Figure 3. Open Smartflex's digitalization strategy equation
On the side of utilities, developing proactive business initiatives with a focus on the key operational journeys is decisive to create an outstanding experience. Nevertheless, every initiative must be backed by data and tools that truly capture customers' expectations and the VoC. In that sense, companies must have a solution capable of supporting journeys nurtured with accurate information to prompt effectiveness.
Open Smartflex is a holistic solution that at its core, has a CIS extended in four dimensions: on the metering side with MDM features, on the customer side with CRM with digital engagement features and a multi-channel self-service portal. On the field dimension with MWM features and finally with the Analytics dimension, all of them streamlined for mobility. It also incorporates an industry model that follows the best practices and processes in utilities and enables end-to-end customer journeys by featuring core capabilities for each business domain in which customer-facing processes take place. In addition, a set of analytics tools is included to provide the input necessary to lead every CX-improving initiative to success. These attributes make Open Smartflex the best solution, preventing companies from the hassles of dealing with several systems that cover just a fraction of their operation and require huge synchronization efforts.
Besides its holistic essence, Open Smartflex provides utilities with unparalleled flexibility, giving them autonomy to adjust the solution to their operation instead of adjusting the operation to the solution. Due to the evolving nature of customer expectations, the system's flexibility comes in handy to support a dynamic CX strategy, allowing the introduction of modifications and enhancements derived from a permanent quality control process to relieve the pain points harming customer satisfaction. The solution's flexibility is also reflected in the ability to offer innovative products and services. With Open Smartflex, utilities can enhance their portfolio and carry-out new processes to participate in non-conventional lines of business, helping them in their bid to entice customers, thereby furthering acquisition and increasing retention and loyalty.
In addition to the flexibility and the holistic vision, Open Smartflex manages different digital interaction channels to fit every stage of the journey according to the preferences of each customer and the operation of utilities. With these omnichannel capabilities, companies are able to supply the demands and needs of the digital age.
Lastly, Open relies on a SMART implementation methodology to deploy Open Smartflex, enabling utilities to operate a powerful solution equipped to support the most challenging business scenarios in less time thanks to an evolutionary process, the generation of early deliverables, the transfer of knowledge, the acceptance of change and the development of an agile project culture. Moreover, the solution's ability to perform continuous upgrades without interrupting the normal operation maintains Open Smartflex constantly updated at a lower cost and effort. This feature helps companies stay innovative with the latest functionalities by keeping them from lengthy update processes and heavy customizations.
The new mantra is to provide the best possible experience to meet customer expectations and secure success in the market. With Open Smartflex, companies can take this road by following a customer-centric digitalization strategy that helps them to get every single component needed to become a CX utility.
References
(1) Gartner, Inc. (2018). Key Findings from the Gartner Customer Experience Survey. https://www.gartner.com/en/marketing/insights/articles/key-findings-from-the-gartner-customer-experience-survey
(2) Accenture Consulting (2017). Moments that matter the most. https://www.accenture.com/gb-en/_acnmedia/PDF-59/Accenture-Moments-that-Matter-Full-Report.pdf
(3) Gartner Inc. (2019). Gartner Glossary. https://www.gartner.com/en/information-technology/glossary/customer-relationship-management-crm
(4) Gartner Inc. (2019). What are Utility Customer Information Systems? https://www.gartner.com/reviews/market/utilities-customer-information-systems
(5) Gartner Inc. (2017). What is meter data management software? https://www.gartner.com/reviews/market/meter-data-management-products
(6) Gartner Inc. (2017). Market Guide for Mobile Workforce Management Systems for Utilities. https://www.gartner.com/en/documents/3868868/market-guide-for-mobile-workforce-management-systems-for0