The gas industry is readying itself for a new era of customer engagement as utilities begin looking at demand response (DR) as a resource to help them deal with peak demand on their networks. Companies are exploring how to best get customers involved, which technology to use, and how DR fits into their wider business. A couple of early adopters are already working on DR programs while the remainder of gas utilities watch in keen anticipation as increasing industry experience, technological maturity, and government support continue to build the business case for natural gas DR.
Historically, gas utilities have had very little control over consumption. Essentially at the mercy of their consumers, these companies have struggled to meet the demand for their service during peak hours resulting in problems such as congested pipelines and large spikes in gas prices. But now gas companies have a new tool at their disposal to help them temper the volatile demand for their service. The utility-customer relationship is being developed into a broader and more digital experience powered by new technology and new ideas; a change driven by expanding the ways that utilities engage and interact with their customers. Through this enhanced relationship, utilities can leverage the participation of their customers to achieve a wide range of operational functions including demand reduction during peak hours.
The growing number of customer contact points
Traditional
Field Service
Customer Service Representatives
Current Day
Web Portals
Social Media
Future
Smart appliances
Internet of Things (IoT)
Third-party service providers
National Grid is a mixed electric and gas utility serving New York, Rhode Island, and Massachusetts. The company has been benefiting from electric DR for years, but it has recently started applying this practice to its natural gas operations, winning the first ever "Utility Industry Innovation In Gas Award" from NARUC.(1)
National Grid started out with a large mailing campaign, but this found little success. The company found that it had to try harder to get customers engaged and onboard with the program, so it took up a more personalized approach which involved one-on-one customer consultations.(2) The company has now signed up 16 commercial and industrial customers who will receive financial incentives for reducing gas consumption during demand events; of which the company expects there to be roughly six every winter. This will be achieved by sending signals to direct-load-control devices connected to furnaces, boilers and other natural gas-fired equipment.


Demand Response is also gaining traction on the west coast, with Southern California Gas Company (SoCalGas) targeting residential customers via their smart thermostats. In Southern California, more than 90 percent of residents use natural gas to heat their home and hot water, making it the perfect opportunity to apply DR.
SoCalGas has set up a program in which customers allow minor adjustments to be made to their temperature settings on days when the company calls a Natural Gas Conservation event. The program includes a sign-up bonus, a smart thermostat rebate, and another bonus upon completion of the program.(3) On top of its DR initiative, the company has used smart thermostats to implement an effective winter savings program which resulted in an average saving of 8% for home heating in the winter.(4)
In stark contrast to the commercial and industrial DR applications being explored by National Grid, utilities can get working in the residential market without having to design and manufacturer bespoke IoT devices. Smart thermostats are available for consumers to buy off the shelf for less than 200 dollars a-piece and they come in-built with everything you need to connect them up to a demand response program.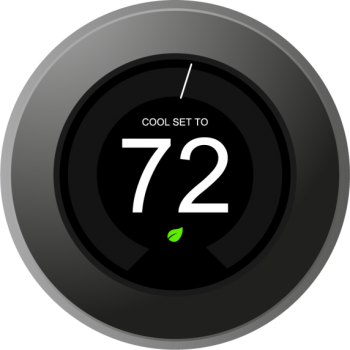 Companies such as National Grid and SoCalGas are leading the way when it comes to natural gas DR, but they aren't the only ones getting excited about this new trend. Lawmakers in Washington are proposing a bill which would instruct the DOE to carry out studies and get utilities involved in pilot programs, setting the stage for the learning and experimentation the industry needs to get natural gas DR into full swing.(5)
Gas utilities are now at a critical point in time where technology, experience, and legislation are coming together to open the way towards this new future; but to be truly successful, utilities need to engage with their customers and integrate DR effectively into their business processes.
Open Smartflex GasCIS provides the perfect solution for natural gas utilities looking to get into DR. This flexible system enables deep integration between core business processes and IoT devices such as smart thermostats to provide a cohesive experience for customers, office staff, and field workers. Open Smartflex's powerful billing engine can quickly adapt to provide the financial incentives you need to get customers involved. If you need IoT devices installed on customer premises, this solution offers fully-integrated support for mobile field service and contractor management to make sure it gets done right.
We believe that customer engagement is the future of the utility industry which is why our product comes with all the tools you need to get customers involved and keep them involved with DR. If you are a combined electricity and gas provider, Open Smartflex EnergyCIS and GasCIS work together to offer a full multi-industry solution; giving you the tools provide an excellent customer experience for integrated electricity and gas DR.
If you are ready for demand response,