Utilities that operate their businesses with a variety of different systems from multiple service providers often face problems in meeting important business objectives. By adopting a modern and holistic solution, like Open Smartflex, utilities can expand their capabilities and offer an outstanding service.
In a rapidly evolving market, utilities are looking to provide a better service to their communities while maintaining business sustainability. As a result, service providers must rely on solutions that help them achieve important goals.
Important factors for utilities
One of the most common priorities for utilities is, without a doubt, customer satisfaction. Nowadays, customers are demanding more attention from their service providers through different accessible and efficient service channels, such as self-service portals, chatbots, IVR, among others.
Utilities must achieve high standards in cybersecurity in order to ensure the confidentiality of their customers' information and provide employees with a safe working environment. By maintaining all equipment and technological infrastructures with a good level of security, services can continue running smoothly, increasing overall productivity.
Utilities are always looking to reduce costs in their operations in order to achieve greater efficiency and reach higher levels of profitability. By significantly reducing costs, new investments can be made in commercial management with the objective of creating closer relationships with customers.
Common problems for utilities
When using several heterogeneous systems to run a business, utilities lack a 360-degree view of their customers. This makes it difficult for service providers to truly understand their customers' needs and concerns, leading to a poor customer experience.
Due to the various integrations between a utility's systems, the risks of cyber-attacks increase, which can affect the confidential information of customers and the company. Moreover, poor data security can cause economic losses for the utility due to possible downtime and data abuse in the event of an attack.
Dealing with the complexity of various integrations between systems can often lead to inconsistencies between operations, triggering operational inefficiency. Additionally, updating each individual system can be time consuming, and to make matters worse, most systems are not synchronized with one another. This can result in some serious downtime.
Implementing and integrating multiple systems into one organization can result in high costs for utilities. In fact, different platforms are rarely compatible with each other, making it difficult to run some processes and maintain consistent operation.
To overcome these challenges, utilities should opt for modern and flexible solutions that allow them to innovate in their operations and keep their businesses running smoothly.
Open Smartflex, the all-in-one modern solution to your needs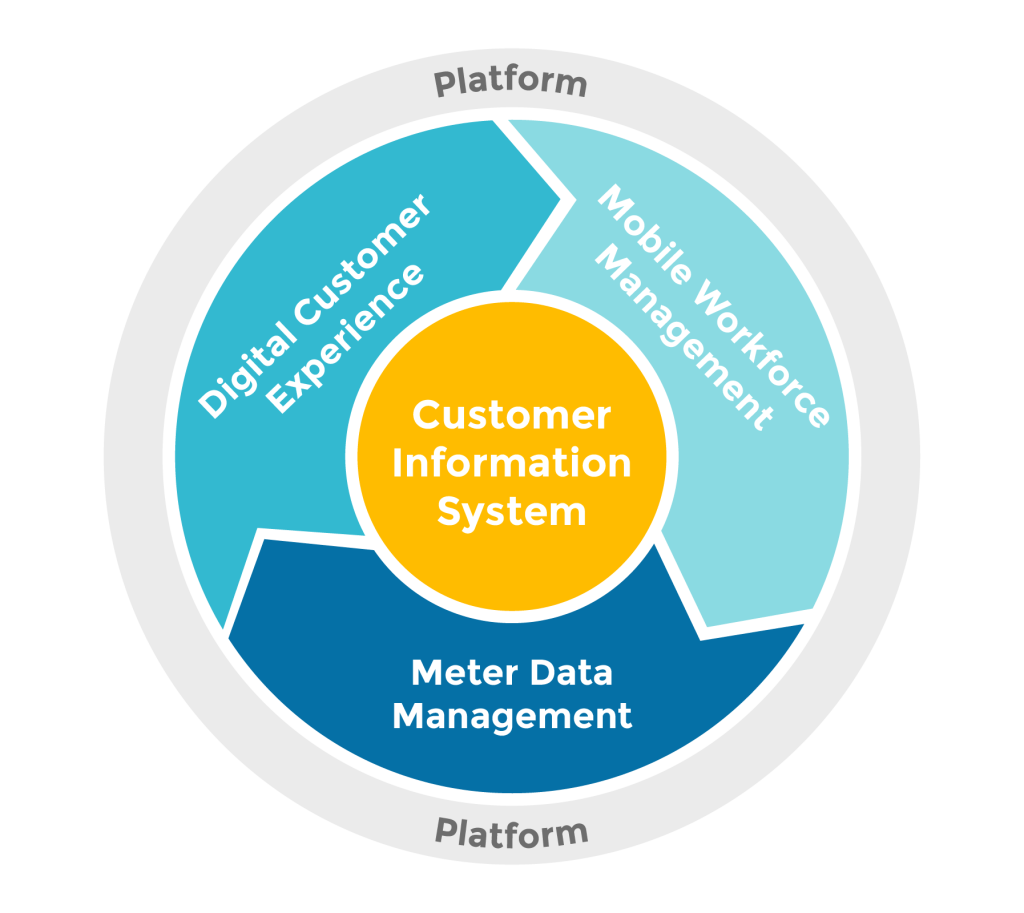 Given the priorities of utilities and the evolving market, Open International has developed the complete and flexible solution, Open Smartflex, that allows service providers to reach business sustainability. This advanced utility billing system with a customer-focused approach is a CIS solution expanded in three essential dimensions: digital customer experience, mobile workforce management, and meter data management.

Through this all-in-one solution and its holistic approach, utilities have a complete view of their customers and can solve their needs through one dynamic platform. This eliminates the need for high integration costs between various systems.
The solution's comprehensive overview of utility customer information gives employees the ability to understand customer needs and offer them an outstanding service, resulting in a greater customer experience. In addition, Open Smartflex comes equipped with an intuitive self-service portal that gives customers the freedom to manage their utility service from home. This portal offers utility customers access to different services such as the enrollment to different programs, outage notifications, alerts, transfer services, chatbots, and more.

With Open Smartflex, the risk of losing information from system integrations and possible cyber-attacks is reduced since everything runs on one single platform. Moreover, this modern solution gives the flexibility and agility that utilities need to optimize their operational work and offer an outstanding service through its various tools such as dashboards, robust rules engine, frameworks, among others. The system is designed to meet the needs of your business and improve decision-making processes in the company, increasing operational efficiency.

Utilities need to be confident with a reliable system that allows them to achieve high levels of customer satisfaction without incurring the high costs of multiple integrations and achieve operational efficiency. By working with a modern, all-in-one solution, like Open Smartflex, service providers can have that peace of mind and consequently provide exceptional services to their communities.
Learn about the problems utilities have to deal with when
adopting multiple systems!