With the ever-growing number of Electric Vehicles on the road, EV charging stations are becoming a familiar sight in urban centers and along major travel routes. If the power distribution industry wants a share of this quickly growing market, it will need to convince regulators and consumers alike that it has the flexibility and vision needed to play a leading role in the future of transportation.
It is a common concern among electric utilities that revenue is projected to fall steadily as distributed energy resources (DERs) reduce the net energy purchased from the grid. To remain relevant in the changing energy landscape, these companies need to seize new opportunities and invest in future revenue streams. The rapidly growing number of EVs is a perfect example of the dynamic nature of the energy industry and brings with it the opportunity that electric utilities need to diversify their service offerings.
EVs are on track to accelerate to 54% of new car sales by 2040" – Bloomberg Electric Vehicle Outlook1
But utilities can't afford to wait around, as EV chargers are already covering America from coast to coast without major utility involvement.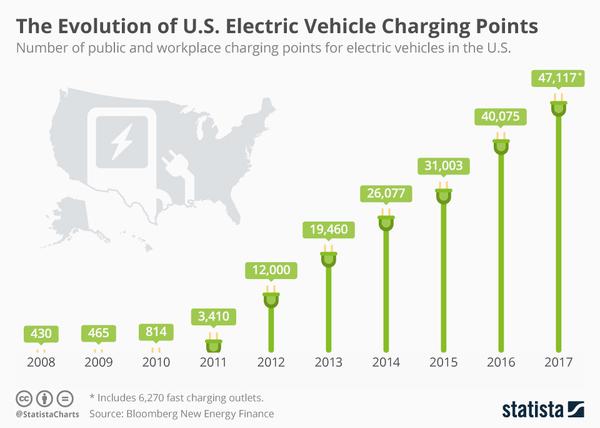 Who are the big players in the EV charging market?
By and large, car manufacturers and independent charging service providers have taken the lead in the car charging sector.
Tesla's supercharger network offers fast charging and wide coverage with over 500 charging stations across North America.2 These charging stations are available exclusively to Tesla drivers through the company's proprietary plugs.3 Not to be outdone, auto giants Porsche and Volkswagen have both set ambitious goals for the deployment of fast charging networks over the coming year.4,5
Meanwhile, independent EV charging companies such as EVgo and Chargepoint are also building extensive networks which are open to members of the public through their online platforms. These companies are also setting up partnerships with employers, retailers, cities, and utilities to help them realize their EV charging goals.
Chargepoint boasts over 49,000 charging spots and provides charging stations for a range of industry partners including the workplaces of major companies such as Google and Netflix.6
EVgo targets drivers who are out and about by providing fast-charging technology in public metropolitan areas across North America. The company currently has over 1,000 public DC fast chargers and is also setting up private charging networks for ventures such as General Motor's car-sharing service, Maven.7,8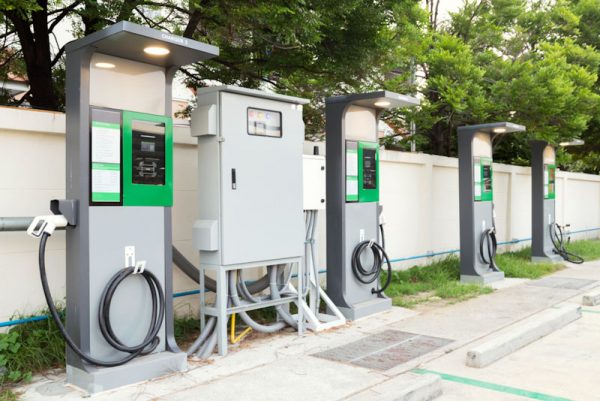 How easy is it for utilities to get involved?
Electricity distribution is a highly regulated industry where the rules vary widely from state to state. As EVs take off in America, regulators are considering what role utilities should play in the market, how the private sector will be involved, and how their policies will affect the public.
States such as Missouri, Michigan, and Kansas have ruled that utilities may not build charging stations, citing concerns about the use of public money for a purpose which will not benefit all ratepayers.9
California is seen by many as a world leader in EVs, but even the golden state banned utility deployment of EV chargers in 2011. The California Public Utilities Commission (CPUC) finally lifted the ban in 2015 as it realized that utilities are vital to helping California reach its ambitious target of 1 million all-electric vehicles by 2020. 10
Private companies naturally feel threatened by the prospect of being squeezed out of the market by regulated monopolies; however, many do believe that some utility involvement is necessary. Brett Hauser, CEO of EV charging company Greenlots, had this to say:
"If we want to move electrified transportation to a broad base, we need to make sure that there's equitable access to the infrastructure. If it's left to competition alone, you're going to see clustering of charging stations in certain places. We think utilities have to play a role."11
PG&E is one of the Californian companies leading utilities in the EV charging market. The company proposed an EV charger rollout under a full utility ownership model, but the final agreement reached with CPUC set a maximum utility ownership share of 35% for chargers installed in the program.12 This decision reflects the view that competition and consumer choice is vital to the quickly growing EV services market.
Massachusetts has taken a different approach to strike the balance between utilities and private enterprise. The state has allowed National Grid to prepare the electrical infrastructure required for EV chargers at host locations but requires the chargers themselves to be installed by the private sector.13
So, what is the way forward?
The power industry realizes that EV charging is an opportunity it needs to take advantage of which is why utilities continue to put pressure on regulators to let them play a leading role in this growing market.
52 percent of power companies are pursuing EV charging as a revenue stream.14
The full-utility model of EV charger deployment and operation has some clear advantages over mixed models. Electric utilities already have strong relationships with customers, so they can provide a one-stop-shop for energy consumers whether they are at home or charging their car downtown.
By adapting web portals and billing systems, utilities can integrate EV charging into their service offerings in a way which truly engages their customers. Through this enhanced relationship, utilities can implement a range of innovative new strategies to improve network operation while continuing to build on customer experience. Imagine rewarding consumers with EV charging credits for participating in demand response programs or trading car charging time for home energy generation. Power distribution networks could even combat the infamous duck curve by encouraging customers to charge at public charging stations during the day instead of in their garage at night.
Even when charging stations are run by third parties, utilities can still take advantage of the situation by providing the required electrical infrastructure and setting up commercial partnerships with the growing number of EV charging companies.
Whether you are dealing directly with the end customer or building commercial relationships with third-party charging providers, you need a software system which has the flexibility to support you through this period of dynamic growth for electric utilities. Open Smartflex EnergyCIS is an adaptable CIS and Field Service solution designed specifically to help electric utilities grow and evolve when faced with evolving technology and changing regulatory landscapes.
With a strong focus on customer experience, Open Smartflex offers a range of ways to engage with customers including tight integration with mobile field service management tools to make sure your field workers get to the scene faster and do the job better. With this solution, you can run dynamic web portals and flexible billing systems which integrate seamlessly with internal and external systems, giving you the power to provide innovate and convergent service offerings.
If you are looking to stand out in the future of the power industry by integrating new technology such as EV chargers into a unified and engaging customer experience,